Culinary Salon Dinner with Cyrus Todiwala OBE DL
Tuesday, February 07 2023, 7pm - 11pm, at Academy Restaurant, Ulster University, York Street, Belfast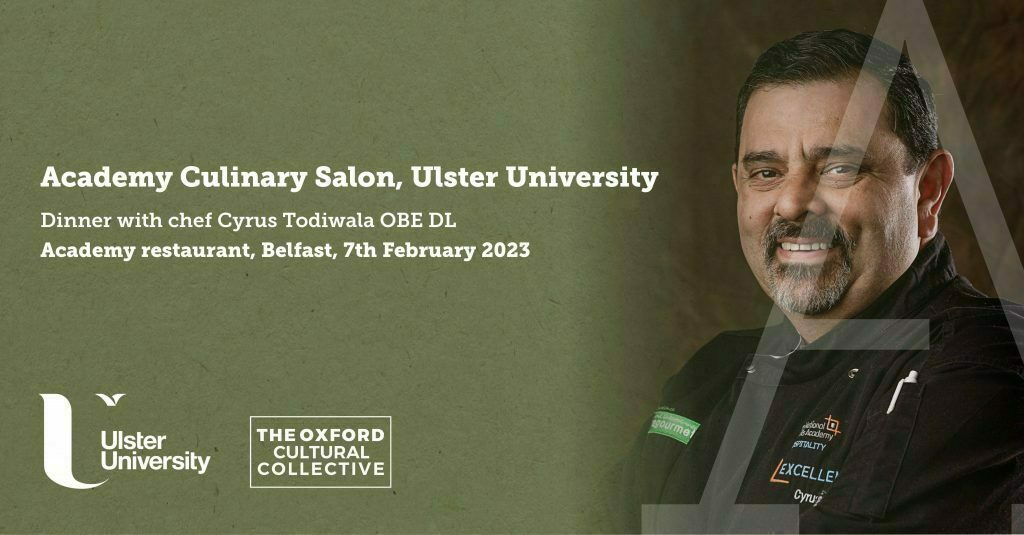 In partnership with the Oxford Cultural Collective, Ulster University is staging a Culinary Salon: a series of dinners hosted by some of the UK and Ireland's most admired chefs and food writers. The events, which are staged in the new Academy restaurant in central Belfast, celebrate the cultural diversity that characterises our contemporary hospitality scene.
This creative initiative has been made possible through generous funding from the Savoy Educational Trust.
The sixth dinner in the series, to be held on the evening of 8th February, will be hosted by Cyrus Todiwala OBE DL, chef, restaurateur, educationalist and broadcaster.
Working with students and the Academy team, Cyrus will prepare a dinner that reflects his Parsee heritage.
Together with his wife Pervin, Cyrus runs three restaurants: Café Spice Namaste, which reopened at Royal Albert Wharf in 2021 after twenty-three years in The City, Mr Todiwala's Kitchen at the Hilton London Heathrow Airport Terminal 5, and Mr Todiwala's Petiscos in Buckhurst Hill, a small neighbourhood restaurant located in the London-Essex border.
After a career in India, which culminated in a period as Executive Chef of the sprawling Taj Holiday Village in Goa, Cyrus immigrated to London in the early 1990s. His culinary skill and boundless energy impressed the food cognoscenti and he started to reshape Britain's limited understanding of Indian cuisine, as well as inspiring a new generation of Asian chefs, many of whom have gone on to open their own restaurants.
Cyrus has written seven cookbooks, including the best-selling Simple Spice Vegetarian published in March 2020. He has appeared regularly on BBC Saturday Kitchen Live, James Martin's Saturday Morning on ITV, and the BBC 4 Food Programme, which awarded him the Food Personality of the Year at its 2014 Food & Farming Awards.
In 2015, he formed one half of the Incredible Spicemen, appearing on a BBC TV series of the same name alongside Tony Singh MBE. In 2022, he accepted the Industry Legend Award from the World Tamil Organisation, organisers of the Global Food, Hospitality and Tourism Awards.
Cyrus is a staunch advocate of education and training. Café Spice Namaste was the first restaurant in the UK to win a National Training Award. He has personally mentored chef apprentices and provided work experience training for many student chefs. Mr Todiwala's Academy, which is based within Café Spice Namaste, opened in 2021.
Other issues close to his heart include social responsibility, sustainability, buying British, food waste and healthy eating. As an environmental pioneer, he has won several awards including the Sustainability Champion award from the London Chamber of Commerce and Corporation of London.
In line with the Parsee ethos of philanthropy ('Good fortune is for him who makes others happy'), Cyrus has devoted much of his time and energy to missions he believes in. One of these is Zest Quest Asia, the student chef competition he founded with Pervin in collaboration with the Master Chefs of Great Britain. Now on its ninth year, Zest Quest Asia aims to develop students' skills, knowledge and understanding of classical Asian cuisine and raise its profile as a future career.
Cyrus has an MBE for his services to education and training and an OBE for services to the catering and hospitality industry. As a Deputy Lieutenant of Greater London, he assists the Lord Lieutenant in the fulfilment of social and civic duties carried out on behalf of HM The Queen.