Culinary Salon Dinner with Felicity Cloake
Tuesday, November 29 2022, 7pm - 11pm, at Academy Restaurant, Ulster University, York Street, Belfast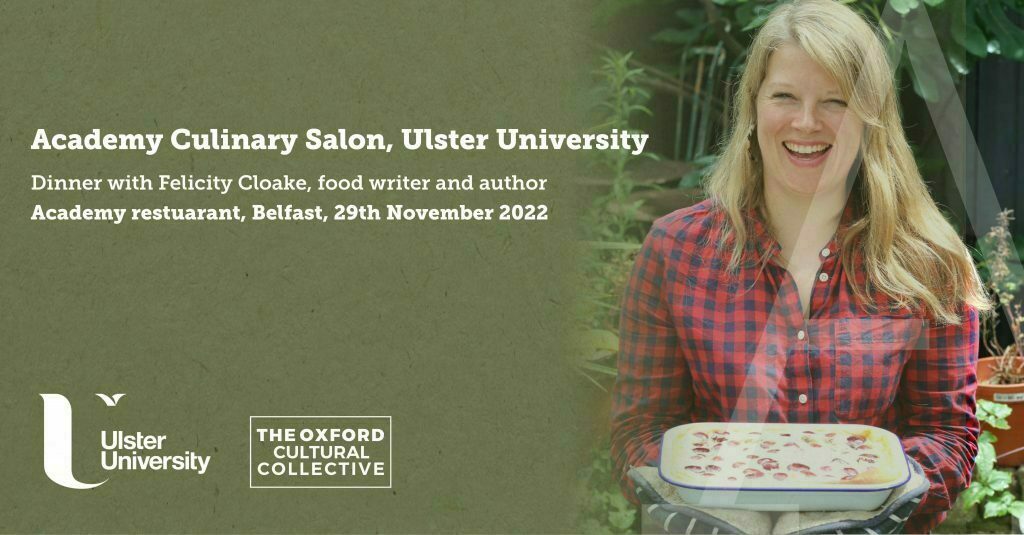 In partnership with the Oxford Cultural Collective, Ulster University is staging a Culinary Salon: a series of dinners hosted by some of the UK and Ireland's most admired chefs and food writers. The events, which are staged in the new Academy restaurant in central Belfast, celebrate the cultural diversity that characterises our contemporary hospitality scene.
This creative initiative has been made possible through generous funding from the Savoy Educational Trust.
The next dinner in the series, to be held on the evening of 29th November, will be designed and hosted by Felicity Cloake, award-winning author and Guardian food writer. 
The menu
£45 per guest – £70 with accompanying wines
Felicity is going fabulously retro – with a delicious take on some of the 1970s most popular dinner party dishes.
Devilled eggs
***
Langoustine and prawn cocktail cocktail, buttermilk wheaten bread
or 
Leak and potato soup, buttermilk wheaten bread 
***
Coq au Riesling, braised red cabbage, fondant potatoes
or 
Nut roast, braised red cabbage, fondant potatoes
***
Treacle tart, custard, cream
***
Tea / coffee – macarons / chocolates
Prior to dinner, Felicity Cloake and Donald Sloan, Chair of the Oxford Cultural Collective, will discuss the art of food writing and the influence of food writers on both domestic cooks and professional chefs.
Felicity Cloake, one the UK's most admired food writers, is the author of the Guardian's long-running How to Make the Perfect recipe column as well as five cookbooks, including the Andre Simon shortlisted The A-Z of Eating, and two on food and travel. Her French culinary adventure on two wheels, One More Croissant for the Road, was a Sunday Times bestseller, a Radio Four Book of the Week and shortlisted for the Fortnum and Mason food book of the year award, and her latest, Red Sauce Brown Sauce: A British Breakfast Odyssey, was published in June 2022.