Culinary Salon Dinner with Sarit Packer and Itamar Srulovich
Tuesday, November 07 2023, 7pm - 10.30pm, at Academy Restaurant, Ulster University, York Street, Belfast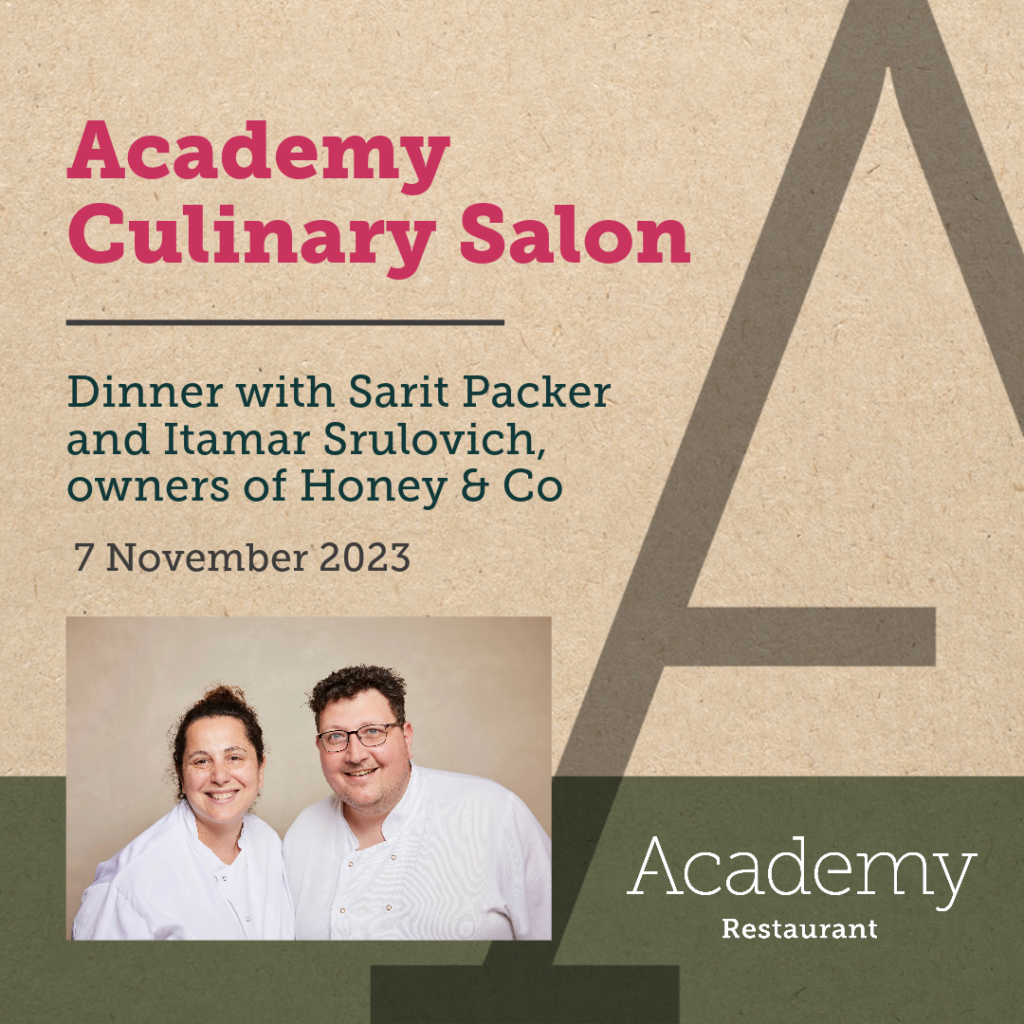 The Oxford Cultural Collective and Ulster University are staging a Culinary Salon: a series of dinners hosted by some of the UK and Ireland's most admired chefs and food writers. The events, which are held in the Academy restaurant in central Belfast, celebrate the cultural diversity that characterises our contemporary hospitality scene, celebrate Northern Ireland as a leading food and drink destination and provide outstanding learning opportunities for students.
This creative initiative has been made possible through generous funding from the Savoy Educational Trust.
TO BOOK YOUR TABLE, EMAIL academyrestaurant@ulster.ac.uk 
Sarit and Itamar opened Honey & Co. – a modest, whitewashed restaurant serving Middle Eastern food, on Fitzrovia's Warren Street, in 2012, before launching their restaurant Honey & Smoke: Grill House and deli Honey & Spice: Food Store. After 10 years, Honey & Co. is now at home on Bloomsbury's Lambs Conduit Street. In September 2023, the couple opened Honey & Co. Daily, their new deli, bakery and café on Store Street, London.
Their debut book, Honey & Co: Food From the Middle East (2015), was named 'Cookbook of the Year' by The Sunday Times (UK), Fortnum & Mason Food & Drink Awards 'Cookery Book of the Year 2015' and The Guild of Food Writers' (UK) Award Winner for 'Best First Book'. They have written three more books, Honey & Co: The Baking Book, Honey & Co At Home and most recently Chasing Smoke: Cooking Over Fire Around the Levant.
They host a podcast, Honey & Co: The Food Sessions, which won 'Fortnum & Mason Podcast of the Year 2021', talking to influential guests from the food and drink industry, and they write a recipe column for FT Weekend.
Menu
Yemeni style falafel with tahini
Dried apricot and pistachio tabule with orange blossom
Baba ganoush with pomegranate
Saffron pears with walnut sauce
Rolled lamb shoulder, borlotti beans & olives, green leaves
Borlotti bean stew, roasted aubergine steaks, green leaves (Vegan option)
Honey & Co. fete cheesecake on a kadaif pastry