Exciting new ventures from Michael Caines
12th April 2021
Michael Caines MBE, Patron of the Oxford Cultural Collective, continues to develop his ground-breaking hospitality business. As the sector starts to emerge from lockdown, it is refreshing to witness his ongoing success, which is so important to the economy and culture of Devon.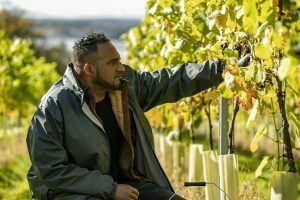 Michael Caines is one of the UK's most popular and highly regarded chefs. Over the past 22 years he has gained an international reputation for his distinctive modern European cuisine, which incorporates the finest local and regional produce.  Michael is also recognised for breaking boundaries. Most recently, he has created a vineyard in the grounds of Lympstone Manor, his beautiful country house hotel which overlooks the tranquil Exe estuary, and he is about to open Mickey's Beach Bar and Restaurant on the waterfront in Exmouth.
Michael recently recalled a memorable moment, from around six years ago, in the company of Marc Millon, food and wine writer and fellow OCC Patron, with whom he has worked closely for more than twenty years. They were sitting outside Courtlands, a dilapidated Georgian mansion that Michael had recently purchased. He shared his vision with Marc: to transform the ruined property into an outstanding country house hotel; to win a Michelin-star for its restaurant; and to plant a vineyard in its grounds to produce his own wine.
The first two goals have been met and he is about to achieve the third. Having laid out the vineyard in 2017, the first grapes were picked late in 2020. It seems Michael's instinct and vision were prescient. Scientific data now indicates that the microclimate in this special corner of East Devon, with regard to exposure, hours of sunlight and average temperature, is ideal for growing vines.
This week, Michael will once again be joined by Marc to taste the various ferments from vats, to begin to assemble the final blend for Lympstone Manor Cuvée, the sparkling wine that he is crafting from Pinot Noir, Meunier and Chardonnay grapes from his vineyard.
It is not only at Lympstone that Michael continues to find success. On 17th May 2021 he will open Mickey's Beach Bar & Restaurant, an exciting new waterfront dining destination in Exmouth. On the ground level, Mickey's Beach Bar will offer informal dining at any time of day and night. Upstairs, Mickey's Beach Restuarant will have indoor dining as well as two fabulous outdoor terraces, one with retracting roof and windows. It will be the perfect setting from which to enjoy the sweeping and panoramic views down the Devon coastline.
Michael and his team have developed menus for both venues that celebrate food that is fresh, fun, local and sustainable. Fish of the day will come from Exmouth docks, just a stroll away, as well as from Brixham, Falmouth and Newlyn. The fabulous shellfish of Lyme Bay will take pride of place too: scallops, Teignmouth mussels, locally landed crab and lobster. Devon Red Ruby sirloin, ribeye and fillet steaks will be cooked on a real charcoal-fired grill, free-range chickens will be prepared on a revolving rôtisserie and pizzas will baked to perfection in a state-of-the-art pizza oven.
Sustainability and a determination to be as environmentally friendly as possible will be part of the Mickeys Beach ethos. "We are located in such a stunningly beautiful part of the world," says Michael, "and it is our responsibility to ensure that we keep Exmouth and our community as clean as possible." There will be no single-use plastic, products will be biodegradable and there will be a strong recycling ethos.  Buying local whenever possible will ensure that food miles are kept to a minimum.
Alongside Mickey's will be Café-Patisserie-Glacerie, a partnership between Michael and Sylvain Pettier.
"Café-Pâtisserie-Glacerie is a celebration of Sylvain's artisan skill, creativity and originality," says Michael. "His modern French pastries are totally unique: you simply won't be able to find or taste them anywhere else. We will be bringing something very special to Exmouth seafront and we can't wait to share Sylvain's creations with the world."
Sylvain says, "Michael was a two-star Michelin chef for 18 years and now holds one star at Lympstone Manor. I have so much professional respect for what he has achieved throughout his long and prestigious career. I am now thrilled to be working with Michael as a partner in our new joint business venture, Café-Pâtisserie-Glacerie. Sideshore is such an exciting venue and I am delighted to be able to share my pastries and gelato with Exmouth locals and visitors alike."