CALLING ALL GRADUATES IN HOSPITALITY, CULINARY ARTS, TRAVEL AND TOURISM
FUTURE CAREERS FAIR 2021 – 28TH MAY
You are invited to join an international online careers fair on 28 May 2021. Registrations now open.
We recognise this has been a tough time for students and graduates in hospitality and tourism. Our sector has been hard hit by covid, meaning career opportunities have been more limited than usual. As we emerge from lockdown, this event will provide reassurance that hospitality, travel and tourism remain vibrant sectors in which to build fulfilling management and leadership careers.
The Future Careers Fair will bring together 500 graduates from across Europe with up to 30 employers and industry representative bodies who want to connect with talented and motivated graduates and share views on how best to approach the early stages of your career.   The event will take place over 2.5 hours.
Student registrations are now open and are free of charge.  Follow this link to book your place.
The event will also include a series of keynote speakers, who will share personal insights that will help with your transition to work, and with taking the first steps in your career.
KEYNOTE SPEAKERS (more to be added in coming days)

From the Institute of Hospitality, Kellie Rixon MBE (Chair) and Robert Richardson (recently appointed as CEO) will reflect on the exciting opportunities that lie ahead for students and graduates. Despite current challenging times, they will remind us that the ongoing success of the sector is dependent on attracting creative, talented and committed young people who are seeking to build management and leadership careers.
Kellie Rixon MBE held a variety of senior positions in industry, including Head of Learning and Development for De Vere Hotels and Group Brand Director of MacDonald Hotels and Resorts, before establishing Rixon Associates, which specialises in driving performance through organisational change.  She was appointed Chair of the Institute of Hospitality in September 2020.
Robert Richardson's career has seen him working at senior levels within major hotel chains including Hilton Worldwide, IHG and Ramada Jarvis. Most recently Robert was General Manager of the independent, luxury Cave Hotel & Golf Resort in Kent.  He was appointed CEO of the Institute of Hospitality in March 2021.

Eugenio Pirri, Chief People and Culture Office of the Dorchester Collection, will explore why a progressive approach to diversity and inclusion is an essential building block of a positive organisational culture.  The company's Global Diversity Champion, he was also responsible for the formation of the Dorchester Collection Academy.
Joining Dorchester Collection in 2011 as Vice President, People and Organisational Development, Pirri committed himself to reshaping the company culture, grounded in a holistic approach to employee and guest engagement within all constituents of the business. He was appointed Chief People and Culture Officer in 2017 where he continues to direct all aspects of human resources, including learning and development, employee & guest engagement, and corporate responsibility.

Turn Your Profile into an Asset
A visionary leader, Linzi Boyd is known for building famous brands. She is a best-selling author, serial entrepreneur and, most recently, Founder of BoB Earth, which connects people to unite, learn to grow and trade with positive impact in the world.
Linzi now works in the enterprise market, teaching entrepreneurs how to enhance the impact and profile of their businesses.
The ezy Virtual Events platform
Using ezy, an intuitive, flexible, virtual events space, ensures the careers fair will operate in a smooth and professional manner. It will feature an auditorium for keynote contributions, branded meeting rooms for employer presentations, exhibitor stands and a BYO café for informal chats. A fully-staffed help desk will be open throughout and technical support will be on hand.
Students will enter through a lobby, watch the welcome video and then select their next destination, which could be a scheduled employer presentation. They can book in advance for specific presentations, or hope to get walk-in entry.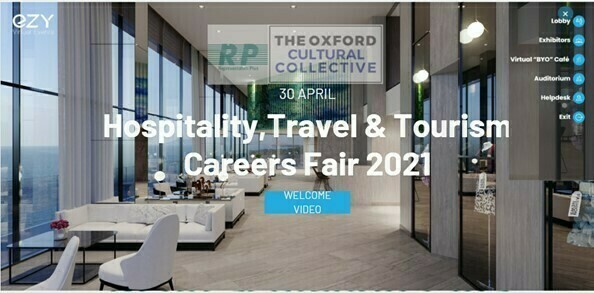 Each meeting room will be dedicated to one exhibitor.  Rooms can be fully branded, with all branded assets provided in advance by exhibitors.
In their private meeting rooms, exhibitors can stage recruitment presentations, show videos, have open discussions and conduct drop-in sessions and one-to-one interviews. Exhibitors will receive support in scheduling an engaging mix of activities.
Each room has access to twelve cameras, enabling contributions from presenters who are in different geographical locations.
Assets in the digital and video library will remain accessible and available for download for registered students, for 24 hours from the start time of the careers fair.