Andi Oliver appointed Patron of Oxford Cultural Collective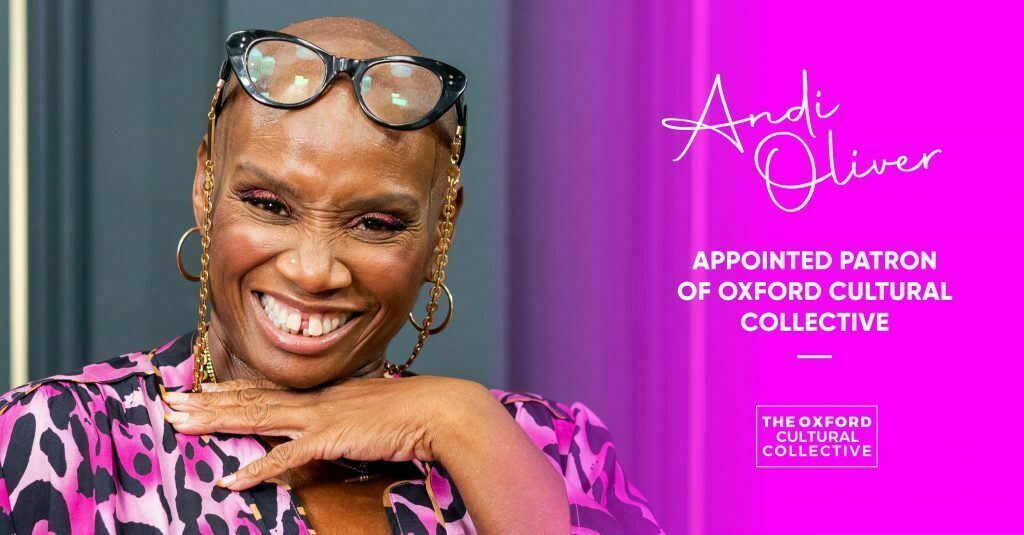 The Oxford Cultural Collective is thrilled to announce the appointment of Andi Oliver as one of two new Patrons, along with environmental strategist Anna Pollock.
Andi Oliver, one of the UK's most well-known and best loved broadcasters, is host of the BBC's Great British Menu, a lead presenter on Food Unwrapped, a regular contributor to the BBC's Saturday Kitchen Live and is host of Sky Arts Book Club and BBC Sounds podcast One Dish. 
In a recent production for BBC2, The Caribbean with Andi and Miquita, Andi and her daughter embarked on a journey to explore their heritage, with visits to Antigua, Barbuda and Barbados. They met with those representing a diverse range of communities and explored the lasting legacy of colonialism on the people of the Caribbean, in what proved to be an emotional trip.
Andi's first cookbook, Pepperpot Diaries: Notes From My Caribbean Table, is due for publication in April 2023. Showcasing traditional and modern dishes and distinctive local ingredients, it will reveal the flavours of Andi's childhood and track how Caribbean cuisine has evolved over time.
As a Patron of OCC, Andi intends to celebrate cultural diversity as a positive and defining aspect of British society. She will explore the history of colonialism and of the Caribbean people and consider how locals and those in the Diaspora might shape a positive future.
With Andi Oliver as lead curator, OCC is planning to stage a new series of events focused on the culinary and cultural heritage of the Caribbean – announcement coming soon.
From Andi Oliver: "I am so thrilled to be appointed as a Patron of the Oxford Cultural Collective. It is an absolute honour to be invited to work shoulder to shoulder within such a creative and powerful culinary community.
The deep and meaningful work of OCC speaks to the very heart of all that is important to me. To explore and celebrate our extraordinary culinary and cultural heritage and in doing so propel us into an exciting future.  
My work with the OCC will allow me to truly take time to examine the heart and soul of Caribbean cooking, to focus on the genesis of familiar dishes, kitchen skills and practice, looking at what happens as we move forward and yet more cultures become a part of the conversation and the culinary lexicon develops and expands.
If we can understand our shared and somewhat complicated past, we can successfully and respectfully navigate our intertwined and exciting future."
From Donald Sloan, Chair of the Oxford Cultural Collective: "We feel hugely privileged to be welcoming Andi Oliver as a Patron of OCC. In addition to being one of the country's most natural and talented broadcasters, she cares deeply about social justice and equality and shares our commitment to achieving meaningful change in the hospitality and food worlds, and in wider society. She also has incredible energy and a love of life, which will attract many others to become active members of our OCC community."
Andi has enjoyed a rich and varied career, built primarily around music and food. She rose to fame in the early 80s fronting the band Rip Rig with Neneh Cherry, before becoming a tv broadcaster. She presented the cult show Baadas TV with Ice T, the award-winning documentary Crazy Sexy Cool, the food show Neneh and Andi Dish It Up (with Neneh Cherry) and for six years she covered Glastonbury and other festivals for the BBC. In addition to her current headline tv roles she is a regular panel member on The Kitchen Cabinet with Jay Rayner and contributes to The Food Programme, both for BBC Radio 4.
She appeared in a gala performance of The Vagina Monologues at the Royal Albert Hall alongside Isabella Rossellini, Maureen Lipman and Meera Syal, which led to a three-month West End run with Michelle Gomez. She also appeared in the first series of The Number One Ladies Detective Agency.
Throughout all of this, Andi has continued to strengthen her culinary skills. For four years she ran a successful ephemeral restaurant, The Moveable Feast. After being creative director of The Birdcage pub on London's Colombia road, she launched her own restaurant at The Jackdaw and Star, a renovated pub in the heart of Homerton. She opened her award-winning restaurant, Andi's, in 2016, and in 2020 created her newest food project entitled Wadadli Kitchen, through which she celebrates real Caribbean home cooking.
---
Patrons of Oxford Cultural Collective
OCC's Patrons are its high-profile international ambassadors. They play a key role in shaping strategy and in steering educational and cultural projects that reflect their areas of expertise. Reflecting OCC's values and objectives, they are known for promoting socially progressive practice in education, industry and wider society.
To view details of OCC Patrons, follow this link.