Asian restaurants face growing skills crisis
At the latest event in the Lee Kum Kee Culinary Culture Series, from the Oxford Cultural Collective, panellists discussed New Wave Chinese Restaurants: Our Latest Culinary Obsession.
Talk to any Head Chef of a UK restaurant and you will soon discover their greatest challenge: recruiting and retaining sufficient numbers of appropriately skilled staff. The labour shortage in the hospitality sector is well documented. A KPMG report for the British Hospitality Association, published in November 2016, suggested there will be a recruitment shortfall of over 60,000 per year from 2019. This figure is based on an assumption there will be no new migration to the UK; existing EU nationals will be not required to leave; and the recruitment of UK and rest of the world nationals will remain constant. Of course if existing EU nationals choose to leave the UK post-Brexit and if, as expected, there are further restrictions on the movement of labour, the situation could be considerably worse.
Whilst the entire hospitality sector is experiencing a recruitment and skills crisis, it seems the Asian restaurant sector is facing particular challenges. This issue occupied panellists at the most recent event in the Oxford Cultural Collective's LKK Culinary Culture Series, held on 4th September 2018 at Asia House. Felicity Cloake of the Guardian was joined by restaurant critic Jay Rayner; CEO of the Good Earth Group, Andy Kwok; and legendary restaurateur Alan Yau, to discuss New Wave Chinese Restaurants: Our latest culinary obsession.
Recalling regular family trips to Chinese restaurants when he was a child in the 1970s, and recent visits to cutting edge venues such as A.Wong, which offer new interpretations of regional dishes, Rayner outlined the changing nature of Chinese restaurants over 40 years. Andy Kwok noted that if their contribution to British food culture is to be maintained, the skills shortage needs to be addressed.  Many Chinese restaurants are family owned and often the younger generations want to pursue alternative careers, adding to the pressure of finding new managers and staff. In addition, there has been a tradition of only recruiting workers of Chinese origin, further restricting the pool of available labour. Despite the challenges, Kwok remains convinced that the sector will adapt and that creative solutions to the skills deficit can be found, from recruiting staff from a more diverse range of cultural backgrounds, to creating chef training programmes tailored to the needs of Chinese restaurants. Alan Yau's perspective was somewhat more pessimistic. As Brexit looms he has growing concerns that the UK is becoming an inward-looking nation that is less welcoming to workers from overseas. His anger is such that he vowed never to open another restaurant in the UK.
Despite a challenging operating environment, and the likelihood that numerous long-standing players will leave the market, it seems an exciting new wave of Chinese restaurants is emerging. Run by chefs who understand contemporary tastes and who are not tied to traditional business models, they are reshaping our understanding of Chinese cuisine.
Hear from panellists and guests at this event – New Wave Chinese Restaurants: Our Latest Culinary Obsession
---
Cyrus and Pervin Todiwala – Zest Quest – seeking creative solutions to the skills crisis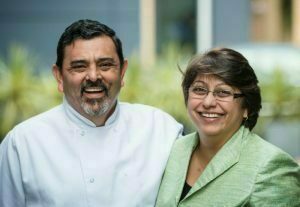 Much of the panel discussion on 4th September focused on creative solutions to addressing the national skills crisis, with particular emphasis on the Chinese restaurants.
In addiiton to operating their own successful restaurant business, including their flagship Cafe Spice Namaste, Cyrus and Pervin Todiwala have had a long-term commitment to attracting and retaining talented workers in the Asian restaurant sector.  In 2000, in partnership with Ho Lan Kwok (Andy Kwok's father), founder of the Good Earth Group of Chinese restaurants, they established the world's first Asian and Oriental School of Catering. Facing a lack of industry support and limited government funding, the school eventually had to close.
Cyrus and Pervin's commitment to promoting careers in the sector was undiminished. The launched the Junior Asian Chefs' Competition, which later became Zest Quest Asia, a national inter-college competition that encourages trainee chefs to consider careers in Asian restaurants. Now in its sixth year, the initiative draws widespread support and attention.
The next Zest Quest Asia Gala Dinner will take place on 8th February 2019 at the London Hilton Heathrow Airport Terminal 5. The guest of honour will be chef Ken Ho OBE, Patron of the Oxford Cultural Collective.
For more information, and to book your tickets, follow this link.