Barings to support OCC series: Migrations – all our voices
In June 2019 the Oxford Cultural Collective (OCC) launched Migrations: all our voices, a series of events that celebrate the positive contributions of generations of migrants who have shaped the UK's rich and diverse culture. Crucially, at a time of growing uncertainty for many in minority groups resulting from political and constitutional upheaval, this hard-hitting series stimulates meaningful reflection on the place of migrants in British society.
Barings has joined forces with OCC and EP to stage its own series of events that will acknowledge the creative and productive energy of its diverse, international workforce. 
Using food as a medium for cultural expression, the events will reflect Barings' position as a global firm with local roots. They will encourage reflection on the values and attributes that enable success for those working in a culturally diverse business environment and will reinforce the company's commitment to inclusion and education.
Each event will feature a prominent food writer or chef, whose work reveals a rich and nuanced picture of a particular culture. In discussion with Donald Sloan of the Oxford Cultural Collective, they will explore issues such as breaking down cultural barriers, enhancing understanding and respect and the importance of shared experiences.
Participants will enjoy dinner, designed by the guest chef and prepared by Barings' in-house team, which will provide a taste of their culture, and give time for informal discussion on the issues raised.
For Donald Sloan, food is the perfect medium for cultural exploration: "Food often reflects our heritage, speaks of who we are and is a source of pride. Most importantly, it is over food that we relax, learn about each other and strengthen our bonds.  What could be more appropriate in a fast-paced work environment in which positive working relationships with colleagues and clients are vital."
---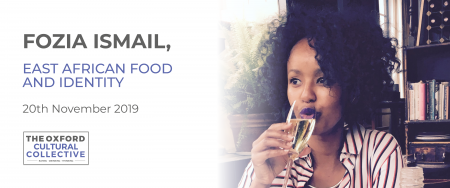 Fozia Ismail: East African Food and Identity.  
At Barings, London
Tickets  – £25 per guest to include a Somali supper with wine.  To book, follow this link. 
Researcher, writer and supper-club host Fozia Ismail will join Donald Sloan of the Oxford Cultural Collective to discuss connections between East African food and identity, with particular emphasis on the experience of immigrants to the UK. How can food give us a more nuanced and rich understanding of East African culture?  Does culinary heritage have heightened importance for those living far from their place of origin? How can we ensure that the food of African nations becomes recognised and celebrated as part of Britain's diverse culinary scene?
Fozia runs a Somali supper club called Arawelo Eats. The supper club is a platform for thinking, researching and exploring racism and British identity via the medium of food, particularly in response to Brexit. Her work has been featured on Observer Food Magazine, BBC Radio 4 Food Programme, Oxford Symposium on Food & Cookery Ox Tales podcast, Food 52, Crumbs Magazine, Vice Munchies & Bristol 24/7. In 2019 she was listed as one of the Observer Food Monthly's Top 50.
By day Fozia is a Research Coordinator for University of West England and in June 2019 was selected as a City Fellow for the Arnolfini – Centre for Contemporary Arts in Bristol for her project Camel Meat and Tapes, through which she is exploring food and community cohesion in Somali nomadic culture.
The celebrated author and journalist Bee Wilson has commented: "Fozia Ismail – brilliant and eloquent on immigrant food in the UK."