COOKING: SIMPLY AND WELL, FOR ONE OR MANY – BY JEREMY LEE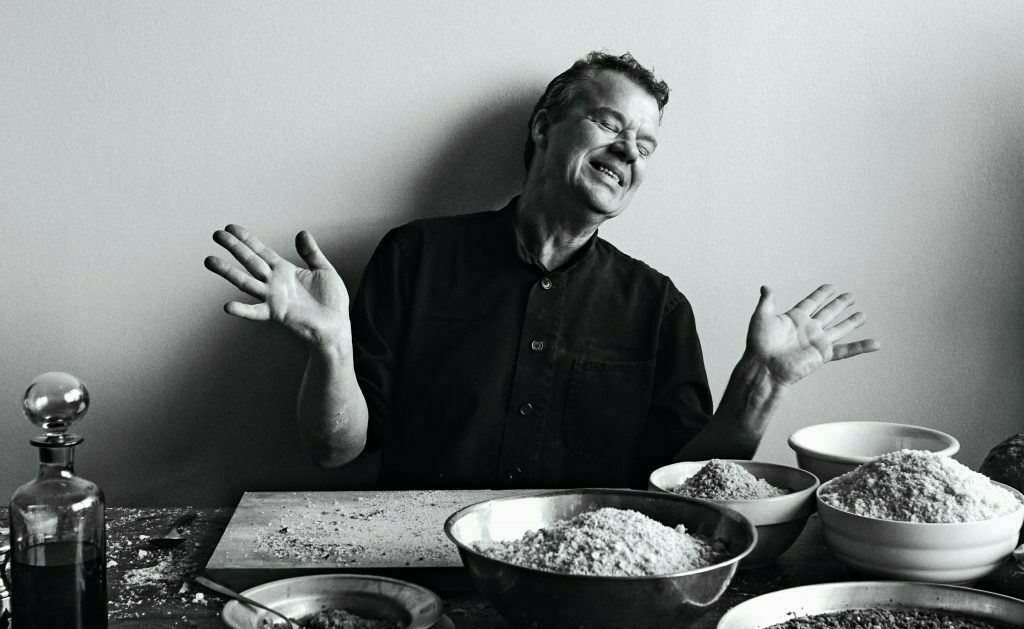 COOKING: SIMPLY AND WELL FOR ONE OR MANY, the first book from Jeremy Lee, Oxford Cultural Collective Patron and Chef Proprietor of Quo Vadis in London's Soho, was published in September this year, to great acclaim.
Fellow Oxford Cultural Collective Patron, Geraldene Holt, welcomes COOKING as a contemporary classic that captures Jeremy's unique generosity of spirit.
'Choose the right parents' was the reply from our family doctor when I asked her for the secret of good health. Jeremy Lee's impressive and enjoyable debut book COOKING: SIMPLY AND WELL, FOR ONE OR MANY persuades me that this renowned and talented chef at Quo Vadis in London's Soho also chose the right parents for his career in the kitchen.
Jeremy acknowledges his debt to his Scottish parents in the dedication of his book. And he describes their frequent searches by car for good food and superb ingredients during his childhood when 'no journey was too long , no detour too convoluted…in the hinterland of Dundee (that) contributes much to the superlative larder of Scotland'.
This abiding quest to discover the finest and most delicious food has stayed with Jeremy. He still hunts in outdoor markets, food shops and uncovers little known growers and producers for ingredients that give his cooking such character and distinction. His dedicated pursuit of fresh local foods, in particular for vegetables, fruit and herbs is legendary and in his book he includes details of his favourite suppliers, even inspiring readers with space or a garden to grow some of his chosen plants.
At the Oxford Literary Festival a few years ago, Jeremy described coming downstairs to breakfast as a boy to find his mother sitting at the table, smoking a cigarette and searching through a book of Elizabeth David's recipes to decide which dish to prepare later with her cookery students. Jeremy still starts every morning with a bowl of porridge stirred with a wooden Scottish spurtle, 'the way my mother taught me' then enriched with 'an auld Scots leaf out of Dad's book and pour on a spoonful of cream.'
Jeremy's recipes are notably user-friendly and clearly explained, rarely requiring a particular skill or tour de main, his principal interest is in perfecting the flavour of a dish. He is a contemporary chef in a line of influential cooks launched in 1952 by George Perry-Smith when he opened his restaurant The Hole in the Wall in Bath. Perry-Smith was self-taught and prepared recipes from books on domestic cooking and he held the view that restaurant cooking need not be complicated and aimed at Michelin recognition but should, above all, give pleasure and make full use of local ingredients.
The late Joyce Molyneux worked with Perry-Smith until he retired when she continued his tradition of fine European cooking when, in partnership with Tom Jaine – Perry-Smith's step-son – they opened the Carved Angel in Dartmouth. Meanwhile in London, Rowley Leigh, Simon Hopkinson, Stephen Bull and Alistair Little also followed this style of preparing fresh local food in simple domestic recipes that often date back to Hannah Glasse and Eliza Acton.
Jeremy's renown as a gifted teacher shows by his giving space in his professional kitchen to young people keen to learn how to cook before they leave and launch their own establishments. His talent as a tutor is founded on his own memories of how he acquired his mastery of food knowledge and kitchen skills and this shows in the clarity of his recipes.
Regular visitors to the restaurant, Quo Vadis, will find some of their favourite dishes in Jeremy's book illustrated with wit and pen by John Broadley plus photographs by Elena Heatherwick.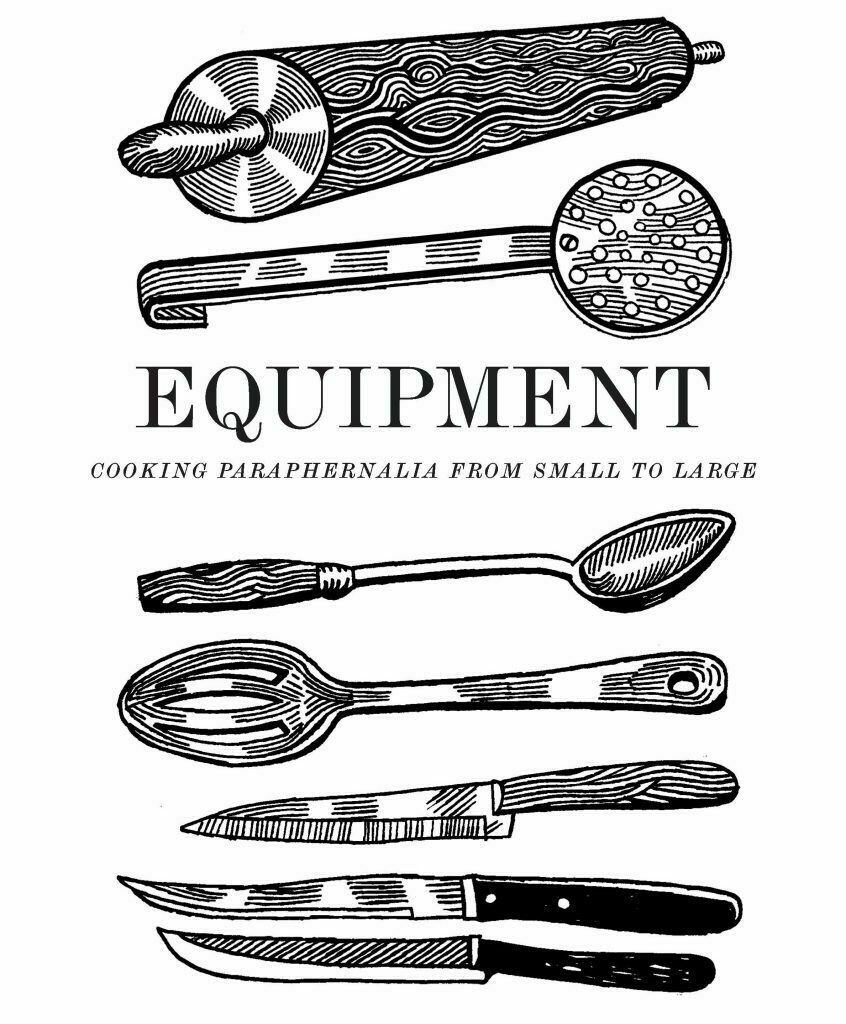 As I turn the pages, memories of so many fine lunches and dinners at Quo Vadis are revived. The 24 chapters feature different subjects such as asparagus, garlic, walnuts, soups, fish or chocolate, each with a handful of recipes. I remember enjoying a dish of carefully poached hake in a pool of smooth emerald green watercress sauce seasoned with crushed anchovy that appears in the FISH chapter. Under the title ASHETS & CHARGERS an outstanding Salmagundy appears; described as 'an abundant salad made with leaves, fruits, vegetables, herbs, meats and fish' and dating from the Tudors that Jeremy generously attributes to Michael Smith's book Fine English Cookery. Jeremy's sweet tarts rich with almonds and honey and fruit are famous but there are also simple recipes for easy soups, crisp cookies and biscuits.
In his book, Jeremy's recipes often include some neat ideas from his restaurant kitchen. I like his unusual practice of preparing choux pastry some time ahead of baking which allows the tiny crisp freshly-baked profiteroles to be filled with cream and ice cream just ahead of serving individually or, for a party, piled high into one of Jeremy's unforgettable 'tumbles' – a tower of sweet delight.
One summer evening in the large echoing dining room of an Oxford college, Jeremy served his outstanding food to hundreds of attendees at the international Oxford Symposium on Food & Cookery launched by Theodore Zeldin and Alan Davidson a generation ago. Deafening applause greeted the entry of Jeremy's team of young chefs each carrying a huge Steak and Kidney Pie topped with the traditional gleaming suet crust with a centre-piece of an empty oxtail bone acting as pie bird in the middle. The whole magnificent meal was a superb celebration of splendid English cooking.
Jeremy's book is a joy and his lively writing style and infectious enthusiasm make COOKING my favourite food book of the year. This handsome volume is both instructive and enjoyable, a warm invitation to share Jeremy Lee's cooking in your own kitchen.
Donald Sloan, Chair of the Oxford Cultural Collective, chooses a few dishes he has often enjoyed in Quo Vadis, which he will now be preparing at home.
(Extracts from COOKING: SIMPLY AND WELL, FOR ONE OR MANY, reproduced with the permission of 4th Estate. Photography by Elena Heatherwick)
BAKED SALSIFY
SALSIFY APPEARS AS WINTER'S GRIP TIGHTENS. It's a vegetable that has an elegant and delicate flavour at odds with its appearance – a dark, earthy root, long and slender, enclosed in a covering of bark echoing the barren, bleak silhouettes of trees in the thrall of winter. It looks as though it'd be more at home in an apothecary's storeroom. But a scrape of the peeler reveals a surprising whiteness that will discolour swiftly after being pared. Plunge it into a bowl of water with a couple of slices of lemon to prevent that happening, but beware, too much lemon and the delicate, elusive flavour of salsify will disappear.
Once peeled, salsify cooks easily, boiled in lightly salted water until just done. Letting the salsify cool in the water, then rolling it in leaves of brick pastry, liberally buttered, seasoned and generously strewn with finely grated Parmesan, then baked crisp in a hot oven, makes an excellent little something hot with drinks or as a starter at table.
The very end of the season for salsify falls just as asparagus arrives. Both asparagus and salsify, cooked and served stacked like a small bonfire, are excellent as a bite with drinks.
One packet of feuilles de brick has about 12 leaves within, so best to use them all, which means a dozen sticks of salsify are required. These keep well in the fridge for a day or so.
Feeds 6
12 sticks of salsify
1 small lemon, thinly sliced
75g unsalted butter
12 leaves of feuilles de brick
50 of grated Parmesan
Preheat the over to 200° centigrade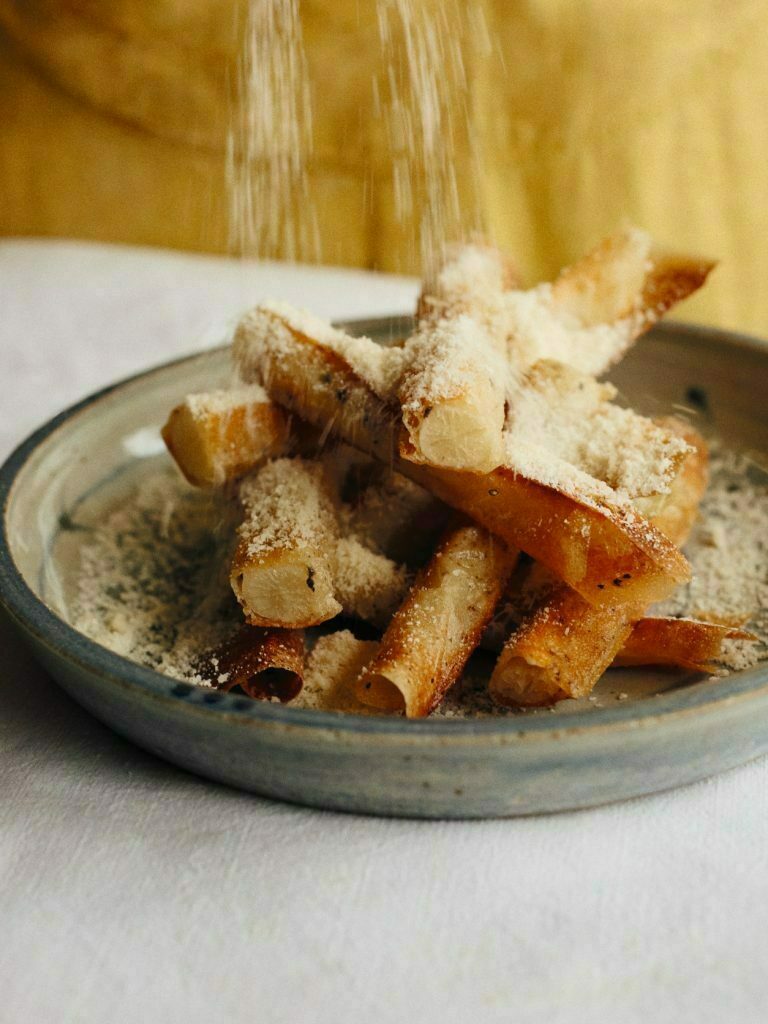 Wash the salsify thoroughly, then peel and place in a bowl of cold water with a couple of slices of lemon. Once all the salsify are peeled, rinse well and place in a pan of cold water. Lightly salt the water, bring to the boil and simmer until the salsify is tender (anywhere between 15 and 25 minutes), having a care not to overcook, lifting more slender salsify from the pan to allow any larger ones to cook fully. When all are done, let cool on a tray.
In a small pan, melt the butter. Brush one leaf of feuilles de brick with melted butter, then season with a little salt and black pepper and grated Parmesan. Cut in half. Place one stick of salsify at the curved end, the pole so to speak of each half, and roll tightly towards the cut edge, the equator of the disc. Repeat until all are done.
Place the rolled salsify on a baking sheet. Bake for 6-7 minutes on one side, then flip and bake for a further 3-4 minutes, until golden brown and crisp. Remove from the oven, place on a board, cut in half, then put on a plate and strew with more grated Parmesan.
PS: If feeling flush, much sliced truffle atop is very good.
BEETROOT, SOFT-BOILED EGGS AND HORSERADISH
THIS BOLD, BRIGHT SALAD NEVER LOSES ITS APPEAL whenever it is made, which is often. Very good on its own, this salad also eats well with cured and smoked fish as well as with thinly sliced ham, or cold roast lamb, beef or pork. The dressing is simplicity itself to make, a salad cream if you will, and don't be shy with grating horseradish over the beetroot, both delighting in each other's exuberance.
A few rules, well, musings really, on the business of choosing, preparing and cooking beetroot. There are so many varieties of beetroot in gorgeous pinks, purples and a gold, a particular variety I love called Flaming Badger. The cook can indulge in all manner of variations with different varieties and colours. I like the small new season's tender beetroots both steamed and baked in foil, or, if there is time to soak, in a diable. Steaming beetroot results in a delicately cooked vegetable, while roasting beetroot in foil or a diable results in a rich intensity. Ensuring the beetroots are of a similar size and shape and regardless of which method of cooking chosen, beetroots take roughly the same time to cook. Larger beetroots, later in the season, are best boiled until tender.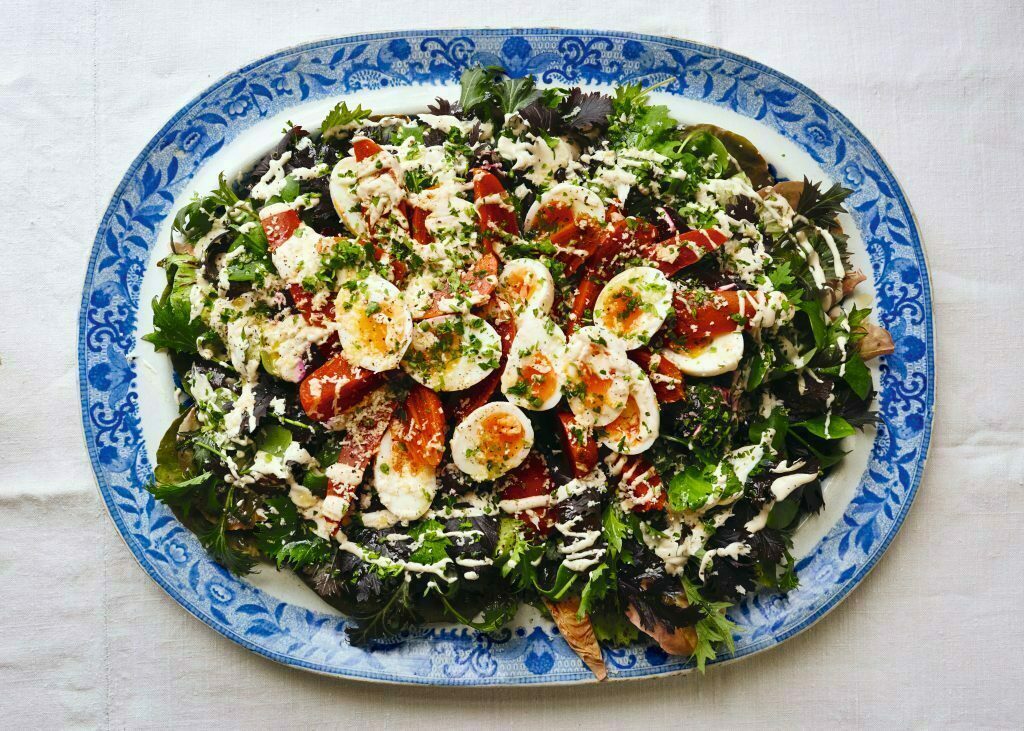 A diable should be soaked for at least an hour in cold water. Tumble in the beets, cover and bake in a preheated oven set at I 80 °C until the beetroots are tender, taking from 30 minutes to I hour depending on size and age.
Feeds 6
1kg small beetroots, gold, pink and purple
1 teaspoon caster sugar
2 soup spoons red wine vinegar
6 freshest organic eggs, at room temperature
2 big handfuls of assorted salad leaves, e.g. mustards, soft-leaved rocket, watercress and cress, escarole or Grumola
a small bunch of chives, finely chopped
1 soup spoon flat-leaf parsley, leaves picked and finely chopped
25-40g fresh horseradish, peeled
soup spoon extra virgin olive oil
For the mustard cream
2 teaspoons organic cider vinegar
2 teaspoons caster sugar
1 soup spoon Dijon mustard
150 ml double cream
Trim the beetroots, retaining any leaves still fresh enough for the salad. Place the beetroots in a steamer, or simmer in a pan of water until tender.
Once tender, let cool. When cool enough to handle, peel away any skin still adhering. Cut the beetroots in half. In a bowl dissolve the teaspoon of caster sugar in the red wine vinegar, tip in the beetroots and mix together with a big pinch of black pepper. Set to one side.
Place the eggs in boiling water and cook for 5 minutes. Cool under running water and peel. Store in cool water.
In a bowl whisk the cider vinegar and 2 teaspoons of caster sugar until the sugar dissolves, then add the mustard and whisk until smooth. Add the cream, mixing well. Cover and refrigerate until needed.
Tumble the salad leaves onto a handsome dish, lay on the beetroot, then cut the eggs in half and place them among the beetroot. Spoon the mustard cream wildly over the salad. Strew with the chives and parsley and grate the horseradish vigorously over the whole salad. Scatter over a few drops of olive oil and serve.
CHICKEN, LEEK AND TARRAGON PIE
(note: to learn how to make Jeremy's delicious shortcrust pastry, you will have to buy a copy of COOKING)
THE BETTER THE CHICKEN THE BETTER THE PIE – so seeking out a dry-plucked chicken from a good supplier is worth the effort.
Feeds 6
1 whole chicken
1 onion
1 carrot
1 leek
2 sticks of celery
5 rashers of unsmoked streaky bacon
a small bunch of thyme or summer savory
5 bay leaves
300ml white wine
4 leeks, firm and fresh, with greens attached preferably
100ml double cream, plus a teaspoon for the glaze
a soup spoon Dijon mustard
a soup spoon picked chopped tarragon leaves
a small bunch of flat-leaf parsley, leaves picked and chopped
flaky shortcrust pastry with lard
1 organic egg, beaten, to glaze
Place the chicken in a close-fitting pot. Peel the vegetables, chop them into smallish pieces, cut the bacon into small strips, and place all around the chicken. Tie the herbs into a small bundle and add to the pot. Season, then add the white wine and 100ml of water. Bring to the boil, simmer for 30 minutes, then turn off the heat and let cool with the lid still in place.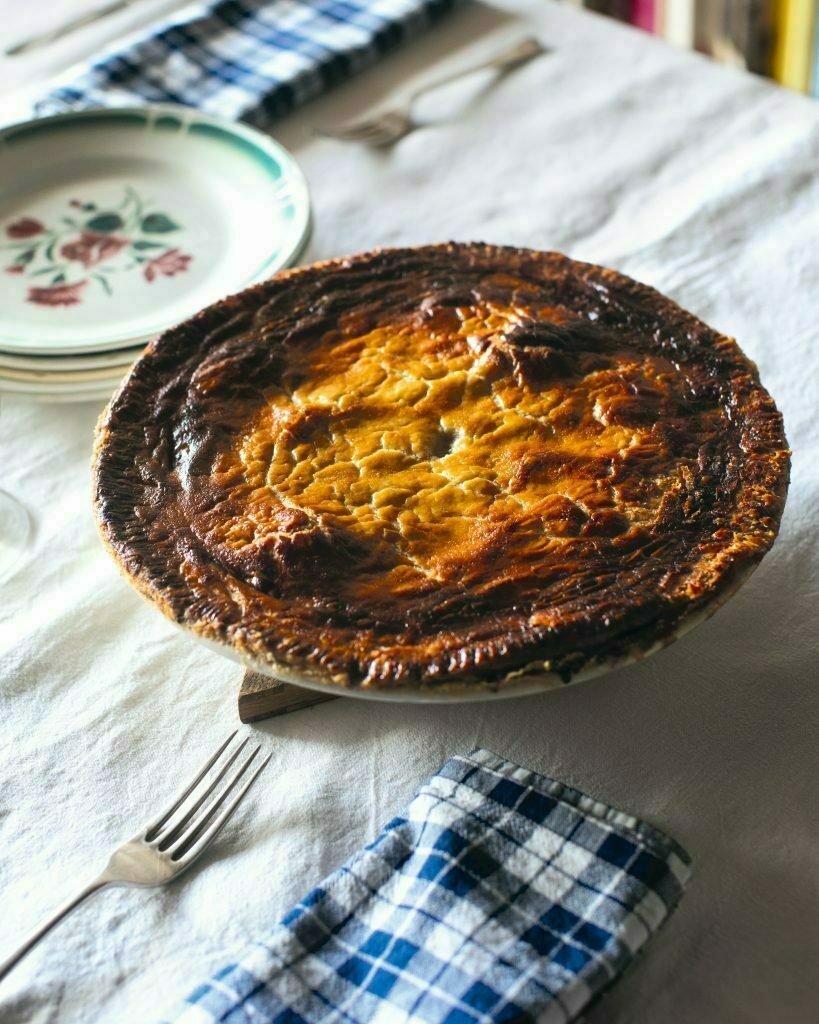 Slice the leeks and wash well. Plunge them into a pan of boiling salted water and cook for a few minutes until tender. Drain the leeks and spread on a fl.at tray to cool.
Heat the oven to r 80 °C. Lift the chicken from the pot and pick the meat. Lift the vegetables and bacon from the pot and discard the herbs. Bring the stock back to the boil, spooning away any foam rising to the surface. Add the cream and boil for a few minutes. Mix together the chicken meat, mustard, leeks, vegetables, bacon, tarragon and parsley, then spoon into a deep, wide pie dish roughly 30cm.
4-5cm. A pie chimney of sorts is helpful here.
Roll out the pastry on a floured surface and lay atop, letting it drape slightly down the sides. Tidy the edges. Beat the egg yolk and double cream well, then brush evenly over the pastry lid. Make an incision in the middle if not using a chimney and bake for 45-50 minutes, until browned and piping hot.