Culinary Salon to bring top chefs to Belfast
18th January 2022
In partnership with the Oxford Cultural Collective, Ulster University is launching a Culinary Salon: a series of dinners prepared by some of the UK and Ireland's best loved chefs and food writers. The events, to be staged in the new Academy restaurant in central Belfast, will celebrate the cultural diversity that characterises our contemporary hospitality scene.
This creative initiative, which will include eight dinners per year over the next five years, has been made possible through generous funding from the Savoy Educational Trust.
As well as becoming important events in Belfast's cultural calendar, the Culinary Salon dinners will provide memorable learning experiences for Hospitality and Culinary Arts Management students, who will work alongside guest chefs.
We are pleased to announce the first four dinners in the Culinary Salon series.
Book here for first event in the series
Romy Gill MBE – dinner on 15th February 2022. Romy is a British-Indian chef and broadcaster who released her first book, Zaika, in 2019. Her second book, On The Himalayan Trail, is due for publication in April 2022. Previously the owner of the acclaimed Romy's Kitchen restaurant in Thornbury, she is now known to UK audiences as one of the regular chefs on BBC1's Ready, Steady Cook, and from her many other tv appearances, including on Channel 4's Packed Lunch.
Jeremy Lee – dinner on 1st March 2022. Jeremy Lee is Chef Proprietor of Quo Vadis, the renowned restaurant and members' club located in the heart of Soho, London. Along with distinguished chefs with whom he has worked, including Simon Hopkinson and Alastair Little, he has played a considerable part in the great resurgence of British cooking.
Yasmin Khan – dinner on 15th March 2022. Yasmin is a food and travel writer, broadcaster and author of the best-selling and critically-acclaimed travel cookbooks, The Saffron Tales (2016), Zaitoun (2019) and Ripe Figs (2021). Prior to working in food she was a human rights campaigner for a decade, with a particular focus on the Middle East.
Akwasi Brenya-Mensa – dinner on 12th April 2022. Akwasi is a chef, street-food operator, DJ, caterer (and more) who is due to open his much-anticipated debut restaurant, Tatale, in London's Africa Centre, in Spring 2022. It will showcase contemporary Pan-African cuisine and will be a venue for events and storytelling through food, art and culture.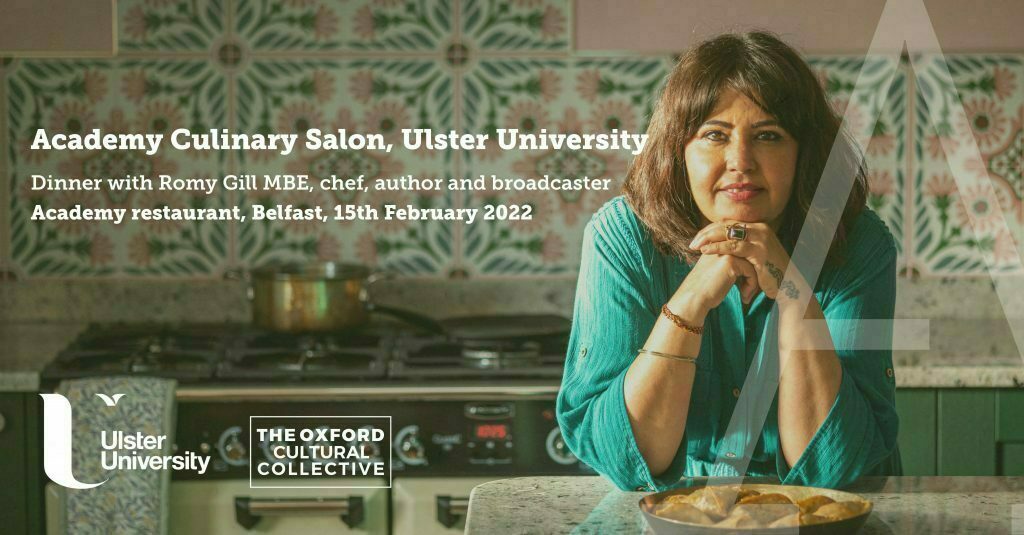 ---
Academy: the Centre for Food Drink and Culture – setting for the Culinary Salon
For the last three years, the Oxford Cultural Collective has been working with Ulster University to conceptualise and launch Academy: the Centre for Food, Drink and Culture, an educational hub that will further strengthen hospitality and culinary arts management as two of the University's flagship areas of provision, as well as making an important contribution to the hospitality sector in the UK and internationally. Academy incorporates a restaurant, culinary school, wine school and conference and meeting facilities. In addition to providing transformative learning experiences for on-campus students it will support to the ongoing development of Northern Ireland as a leading food and drink destination.