Gastronomy Summit 2022 – community regeneration through food, drink and hospitality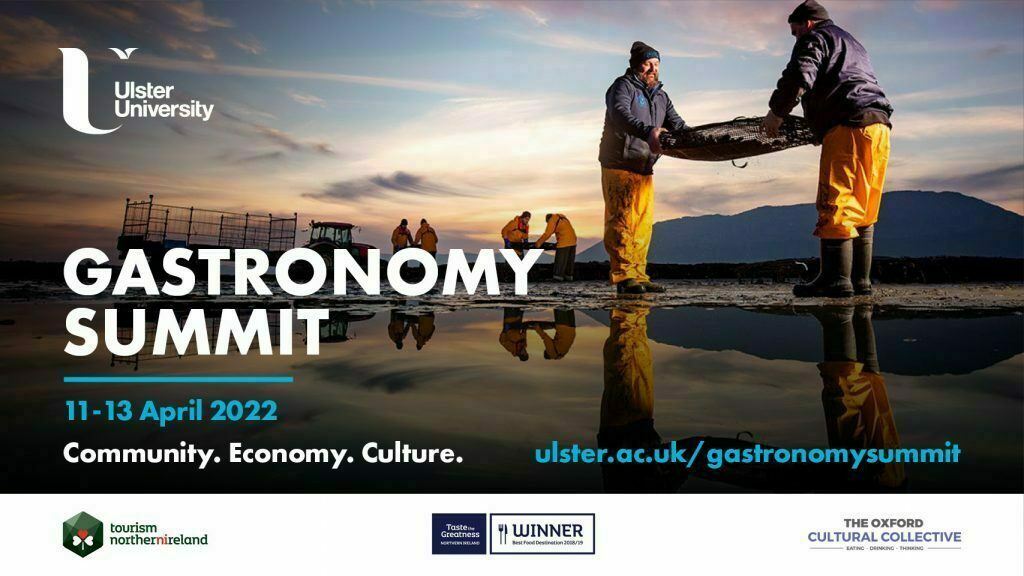 The Oxford Cultural Collective is working in partnership with Ulster University to stage Gastronomy Summit 2022, a landmark event, to be held in Belfast on 11th to 13th April 2022, which will bring together members of the global culinary community to explore and celebrate the transformative power of food, drink and hospitality.  
The launch of Academy: the Centre for Food, Drink and Culture, a new educational hub developed in partnership with the Oxford Cultural Collective, gives Ulster University a platform to lead conversations on the implications of our established food systems for communities, climate and health.
Book your place at Gastronomy Summit 2022
At Gastronomy Summit 2022, over three days of keynotes, discussions, academic presentations and social events, delegates will consider the development of cities, regions and even countries as food and drink destinations, in ways that deliver tangible benefits to local people. They will share practical solutions to achieving lasting and inclusive community regeneration, including in locations that are facing considerable social, cultural and economic challenges.
The event is inspired by Northern Ireland's ongoing development as a leading food and drink destination, and reflects a collective desire share knowledge and experience from around the world.
Breaking with the format of traditional conferences, Gastronomy Summit 2022 will unite academics, chefs, producers, writers, activists and destination managers, who are committed to achieving positive change for the communities they represent.
Programme
Delegates will be encouraged to share their knowledge and experience and to build working relationships with those who have complementary interests.  The first day of Gastronomy Summit 2022 will be dedicated to the presentation of Academic papers. The call for Academic Papers has now closed. The call for Good Practice Case Studies is still open.
A diverse range of keynote contributors will reflect on their own projects, which have helped communities flourish.
Keynote speakers include Duncan Morrow, Professor of Politics at Ulster University, who has assisted with the peacebuilding process across Northern Ireland since the signing of the Good Friday Agreement in 1998. He will consider the role of civil society, including food professionals, in embedding peace and community cohesion.
Chef, author and entrepreneur Gaston Acurio, will reflect on his pivotal role in shaping perceptions of Peru as a world-class gastronomic destination, and on his efforts to extend opportunities to young people from deprived communities through culinary education.
Anna Pollock, leading advocate for regenerative tourism, will consider the responsibilities of the hospitality industry, with respect to climate change, which forms the basis for community cohesion.
Author of ground-breaking book Sitopia, Carolyn Steel, will imagine a positive future, in which strong local food systems enhance our health and wellbeing.
The role of education in building community-focused food destinations will be explored by Joxe Mari Aixega, Director of the Basque Culinary Centre in Northern Spain and Andrea Pieroni, who leads the University of the Gastronomic Sciences in Pollenzo, Italy.
Dr Jessica B Harris, widely regarded as the world's leading commentator on the food of the African Diaspora, will consider how the study of food history can reveal hidden and suppressed stories, and in doing so can build confidence across communities.
Michael Caines MBE, one of the UK's most respected chefs, will be joined by food, wine and travel writer Marc Millon, to reflect on the cultural transformation of Devon, led by those who support and promote its distinctive culinary culture.
Urban regeneration, through food-focused community projects, will be the focus for chef, writer and activist Zoe Adjonyoh, who is the founder of Zoe's Ghana Kitchen.
Social events
Giving delegates time to interact informally will be a valuable dimension of Gastronomy Summit 2022. This is when shared interests can be explored in depth and consideration can be given to future collaborative projects.
Dinner on 12th April 2022 will be prepared by Ghanaian-British chef and curator, Akwasi Brenya-Mensa, in partnership with culinary arts management students from Ulster University. Akwasi is due to open his debut restaurant and bar, Tatale, in London's Africa Centre, in Spring 2022.  It will showcase contemporary Pan-African cuisine and will be a venue for events and storytelling through food, art and culture.
On 13th April, a group of Northern Ireland's most respected chefs will prepare a dinner that celebrates local produce. To be held in Belfast City Hall, this event will showcase the role that food and drink are playing in stimulating local pride and enhancing the reputation of Northern Ireland around the world.
Optional walking tours will highlight aspects of local culture. One will explore the history of Northern Ireland's years of conflict, often referred to as the 'troubles', and the peacebuilding that has been ongoing since 1998. Others will focus on Belfast's emblematic street art (murals), which document aspects of the city's divisive politics; and the recent development of Belfast as a gastronomic destination.