Gastronomy Summit 2022 – Dr Jessica B. Harris – Culinary History: A Community Confidence Builder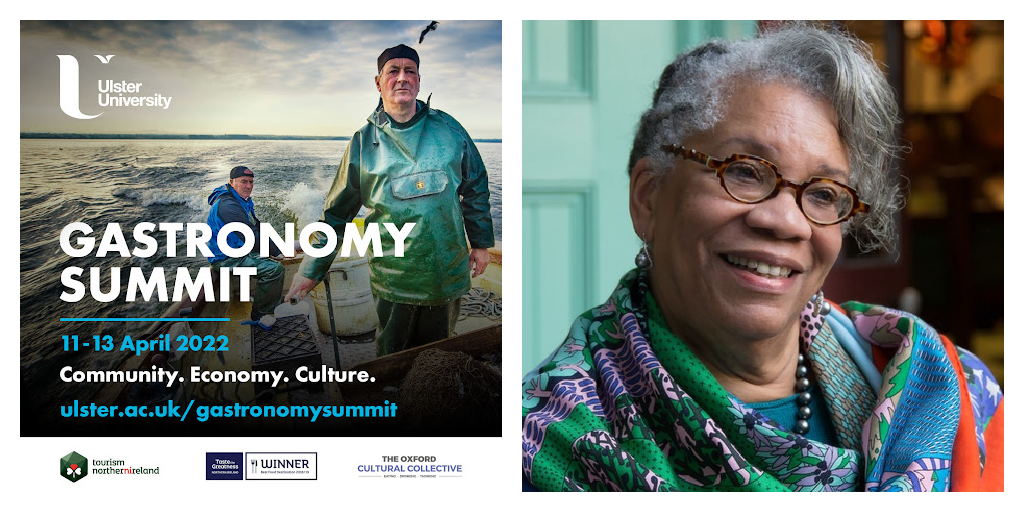 The Oxford Cultural Collective is working in partnership with Ulster University to stage Gastronomy Summit 2022, a landmark event to be held in Belfast on 11th to 13th April 2022, which will bring together members of the global culinary community to explore the development of food and drink destinations in ways that benefit local communities.
Book you place at Gastronomy Summit 2022.
Dr Jessica B. Harris is widely regarded as the leading commentator on the food of the African Diaspora. In her keynote session, using examples from several locations, she will explore how the study of culinary history can reveal hidden and suppressed stories and, in doing so, instill confidence across communities.
Jessica will also appear on a panel with award-winning food writer Melissa Thompson, and Akwasi Brenya-Mensa, chef and curator. They will explore systemic racism is limiting career progression for food professionals of African and Caribbean origin working in the UK. They will consider tactics for community empowerment and reflect on how we might tackle embedded prejudice. 
Jessica Harris, culinary historian, author and broadcaster, is recognised as the leading authority on the food of the African Diaspora. Early in her career, as Travel Editor of Essence magazine, she travelled extensively across West Africa and South America. She began to identify common ingredients and flavours which linked dispersed peoples, and which also reminded her of home. This became the genesis of her later work, including twelve critically acclaimed books documenting the culinary traditions of the African Diaspora, including High on the Hog: A Culinary Journey from Africa to America, which formed the basis of a recent hit Netflix.
"Through food, we can find out that there is more that connects us than that separates us. What we eat and what we discover brings us together. It's a communal table. It's how we know who we are, and it's how we know we're connected."
Jessica was lead Curator of a major exhibition, which opened in February 2022, staged by the Museum of Food and Drink, at the Africa Center, Harlem, New York City. African/American: Making the Nation's Table is the first exhibition to celebrate the countless black chefs, farmers, and food and drink producers who have laid the foundation for American food culture —recognition that is long overdue.
In the world of Peter J. Kim, former Executive Director of MOFAD: "The goal of African/American is really two-fold; to create a deep appreciation for the profound impact that African Americans have had on American cuisine, and to bring diverse audiences together around a table to celebrate our shared culinary identity."
In addition to books on African American food culture, she has written a memoir, My Soul Looks Back, published in 2017, which was a finalist for the PEN Open Book Award. Her most recent book: Vintage Postcards from the Atlantic World: In the Dignity of their Work and the Joy of Their Play, was published in May 2020.
A professor in the English Department at Queens College, CUNY for 50 years until her retirement, Jessica is currently professor emerita. She holds an A.B. from Bryn Mawr College, a M.A. in French Literature from Queens College, CUNY, a License ès Lettres from the Université de Nancy, France, and a doctorate in Performance Studies from New York University where her dissertation focused on the French-speaking theatre of Senegal. She was the inaugural scholar in residence in the Ray Charles Chair at Dillard University in New Orleans.
Dr. Harris has received many honours, including, most recently, the prestigious Lifetime Achievement Award from the James Beard Foundation.