Gastronomy Summit 2022 – Michael Caines MBE and Marc Millon – Building local food systems: harnessing the power of community in Devon, UK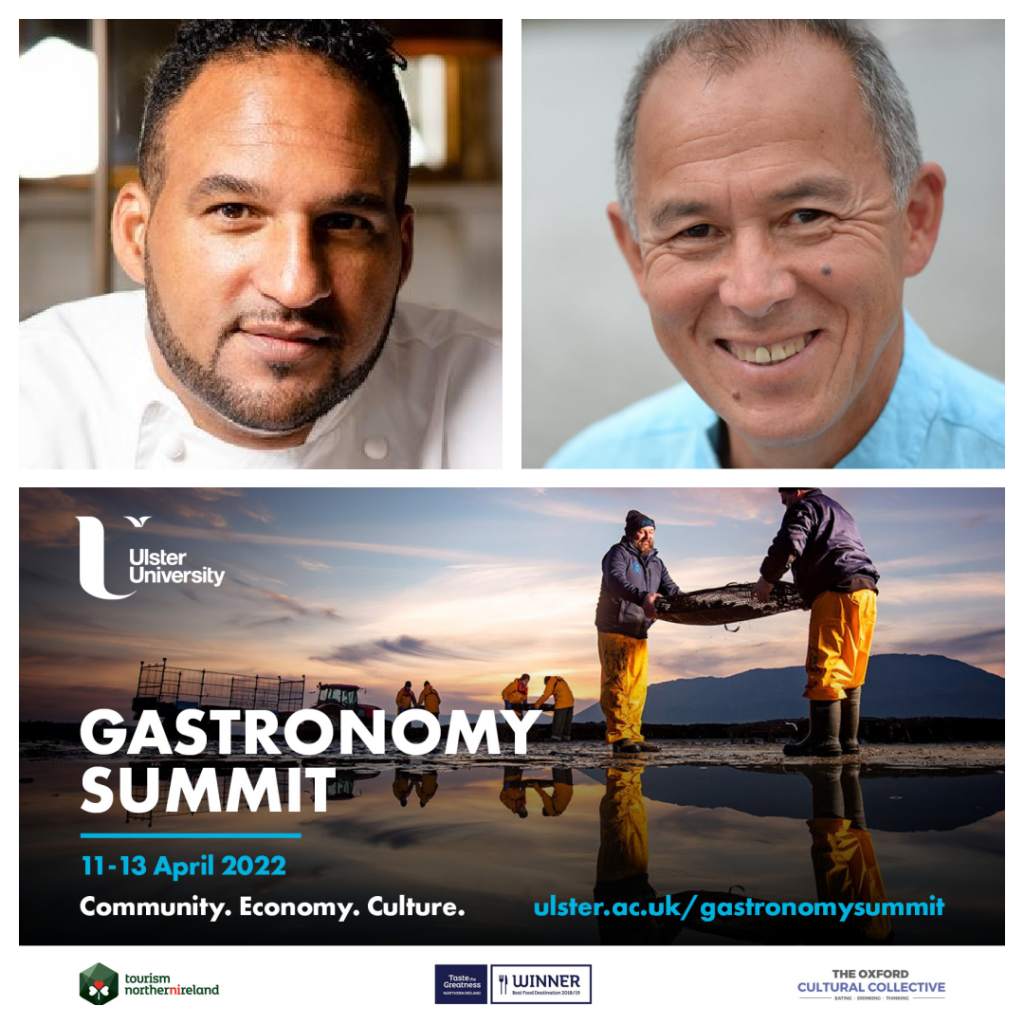 The Oxford Cultural Collective is working in partnership with Ulster University to stage Gastronomy Summit 2022, a landmark event to be held in Belfast on 11th to 13th April 2022, which will bring together members of the global culinary community to explore the development of food and drink destinations in ways that benefit local communities.
Book you place at Gastronomy Summit 2022.
Michael Caines MBE, internationally renowned chef, hotelier and broadcaster, and Marc Millon, respected food and wine writer, will consider close collaboration in a community of food and drink professionals, as the key to creating a world-class gastronomic destination.
Devon, a county in the South-West of England, has always had a wealth of outstanding food produce. Michelin-starred chef Michael Caines MBE firmly believes that Devon, his home county, has the best larder not just in the UK but in all of Europe. This session will explore how producers, entrepreneurs, chefs and consumers, working together in a virtuous circle to utilise the power of community, have helped to make this one of the most dynamic and exciting places in the UK for quality, local food and drink at all levels.
Michael Caines MBE is one of the UK's most celebrated and acclaimed chefs, a successful and imaginative hotelier, a respected spokesperson for the hospitality industry and a patron and fundraiser for a number of national and local charities and community organisations.
In 2017, Michael opened Lympstone Manor, a luxury country house hotel that sets a new benchmark for hospitality. Lympstone Manor is the culmination of a longstanding dream, to transform an historic Grade II Georgian mansion into his wholly personal vision of contemporary country house hospitality for the 21st century. With 21 stunning guestrooms and suites named after the birds of the estuary, three beautiful and individual dining rooms, 28 acres of gardens and parkland including its very own vineyard all set in the beauty and tranquillity of East Devon and the Jurassic Coast, a stay here is a totally exceptional experience.
Michael held two Michelin stars for 18 consecutive years before he took the leap of faith to create his own country house hotel. Just six months from opening Lympstone Manor, Michael and the team were awarded their first Michelin star.  Amongst his many accolades, Michael cooked in 10 Downing Street for the Prime Minister, was awarded AA Chef's Chef of the Year in 2007, and received an MBE in 2006 for services to the hospitality industry. In 2015 he was made freeman of the City of Exeter "in recognition of his outstanding services to the field of cookery which has led to Exeter's name being known around the world as one which supports cookery".
Marc Millon has been travelling, eating, drinking, learning and writing about food, wine and travel for nearly 40 years.
Born in Mexico, with a mother from Hawaii via Korea and an anthropologist father from New York via Paris, he was weaned on exotic and delicious foods. Marc and his photographer wife Kim are the authors of 14 books and are regular contributors to publications on both sides of the Atlantic. They pioneered a series of illustrated wine-food-travel books including The Wine Roads of Europe, The Wine Roads of France, The Wine Roads of Italy, and The Wine Roads of Spain. Other titles include The Wine and Food of Europe, The Food Lovers' Companion Italy, and The Food Lovers' Companion France.
Marc regularly lectures and hosts gastronomic cultural tours to Italy and France with Martin Randall Travel, the UK's leading cultural travel specialist. He and Kim also have their own wine company, importing Italian wines from small family estates. Marc has lived in Devon for nearly four decades and is recognised as one of the most effective ambassadors for local food culture. Each year he hosts a gastronomy field trip to his adopted county for Oxford School of Hospitality Management students to learn about food and food culture directly at the source, meeting outstanding producers, chefs, winemakers and more.
Marc recently launched a new weekly podcast, through which he shares his passion for Italian wine. Hosted on the Italian Wine Podcast platform, the broadcast features Marc in conversation with producers, experts and personalities of the Italian wine sector.