Gastronomy Summit 2022: Social events to build a sense of community
Gastronomy Summit 2022, an international conference held in Belfast from 11th to 13th April this year, was co-hosted by Ulster University, the Oxford Cultural Collective, Food NI and Tourism NI.  Speakers and delegates explored the power of food, drink and hospitality to benefit local communities. 
Any regular conference delegate will agree – enjoying the social programme is as valuable as attending the keynote speeches. Complementing the formal Summit programme, memorable social events, featuring food prepared by a range of renowned chefs, helped foster new friendships and collaborations.
Dinner on 12th April, in the Academy restaurant, was prepared by British-Ghanaian chef Akwasi Brenya-Mensa, who is opening his first restaurant in London, Tatale, early in the summer of 2022. Akwasi's dishes evoked memories of his childhood – Omo Tuo, Chichinga Chicken, Red Red Black Eyed Bean Stew with Plaintain, and Spiced Rice Pudding.
After dinner, Akwasi shared a letter he had written for his mother. With great emotional impact, it revealed how she had shaped his strong relationship with food, something which he came to realise and appreciate later in life.

Finnebrouge Artisan, one of Northern Ireland's most respected food production companies, worked with the Academy team to deliver lunch on 12th April.  Using produce from the Finnebrogue estate, the event highlighted how food producers can maintain their ethical principles as they grow in scale and it reinforced the critical role of research and food innovation, supported by educational partnerships.
The Gala Dinner on 13th April, held at Belfast City Hall, was a showcase of great produce and culinary talent from across Northern Ireland. Chefs Brian McCann of Lottie's, Noel McMeel of Lough Erne Resort and Gemma Austin of A Peculiar Tea closed Gastronomy Summit 2022 on a high.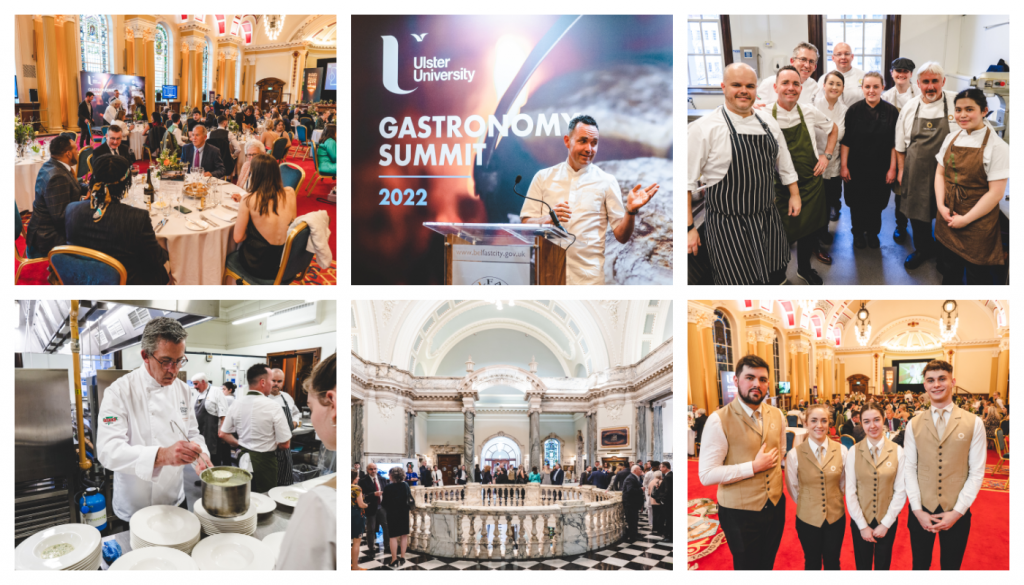 View more photos of the Gastronomy Summit 2022 Gala Dinner – follow this link.