Gastronomy Summit 2022 – 'Tatale' – dinner from Akwasi Brenya-Mensa – 12th April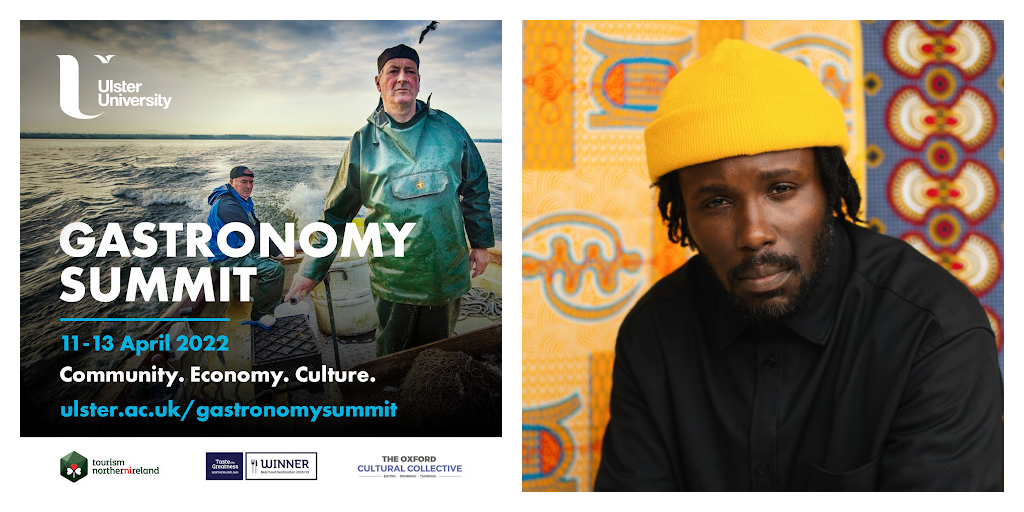 Introducing the headline contributors to Gastronomy Summit 2022
Book your place at Gastronomy Summit 2022
The Oxford Cultural Collective is working in partnership with Ulster University to stage Gastronomy Summit 2022, a landmark event to be held in Belfast on 11th to 13th April 2022, which will bring together members of the global culinary community to explore the development of food and drink destinations in ways that benefit local communities.
Reflecting Gastronomy Summit's overarching aims, delegates will enjoy social events which ignite conversations, foster new friendships and build a sense of community.
Rising star of the food world, chef Akwasi Brenya-Mensa, who is due to open his first restaurant in London's Africa Centre in the summer of 2022, is taking centre stage at Gastronomy Summit in Belfast. Brenya-Mensa will be serving his distinctive pan-African cuisine at this international gathering of chefs, food writers, journalists and academics, being held at Ulster University from 11th to 13th April 2022. He will also contribute to a panel discussion alongside award -winning food writer Melissa Thompson, and distinguished culinary historian Dr Jessica B. Harris, whose work was the inspiration for the recent hit Netflix series, High on the Hog; How African American cuisine transformed America. Together they will consider how to break down systemic prejudice which limits the progression of food sector professionals who are of African and Caribbean origin.
Tatale celebrates and preserves the rich tapestry of African flavours and cooking traditions through the ethos of the cherished Chop Bar – a defining element of Ghanaian cultural and culinary life. Akwasi is opening his new permanent site at a time when African cuisine is beginning to attract the recognition and appreciation it deserves. Serving dishes which marry his Ghanian heritage with innovative technique and presentation, Tatale will be a high-profile platform from which Akwasi can further enhance and explore the appeal of African cuisines.
"I view myself as an African Futurist in this sense, as I am really excited by the prospect of having a healthy, thriving and varied African culinary scene and what this will look like in twenty or thirty years' time. There's a lot of positive change, innovation and excellence ahead."
Taking its name from the plantain pancake, tatale – a quintessential Ghanian dish – it reflects Akwasi's belief that wherever you are in the world, plantain is synonymous with the Black experience. This concept of universality, reflected in his desire to form connections through food, art and music, has become the backbone of Akwasi's approach.
Akwasi's fascination with food began during his years travelling as a tour manager for various bands. Travel offered Akwasi a gateway to different cultures, cuisines, and cooking techniques, which became the catalyst to the creation of his supperclub series, Mensa, Plates and Friends. Speaking recently to The Observer, he commented: "Food is an integral part of people's culture – and I'd immerse myself. I'd go on my own to smaller chef-owned places, so I'd be able to speak to people'. This was his inspiration for moving into the culinary world, initially as a street food operator, caterer, supper club host, and now multi-disciplinary curator who's vision is to broaden the appeal of African cuisines in the UK, in line with the growing fondness for innovative and ethical consumption.
Brenya-Mensa will create a menu that demonstrates his knowledge of methods of preparation, cooking techniques and flavours, plus his own insights into the various health benefits of recreating heritage dishes with less oil and meat to avoid some of the issues the older generations are now facing (e.g. diabetes). Working with the culinary arts management students of Ulster University, Brenya-Mensa will open the Gastronomy Summit with a Delegates Dinner for up to 85 guests who will dine on signature Tatale dishes such as Eto Plantain Warqa Brick Tart and Omo Tuo, Nkatekwan, Sesame, Parsley.