Jessica Harris inducted into James Beard Foundation 'cookbook hall of fame'
24th June 2019
The James Beard Awards, often referred to as the 'Oscars' of the food world, recognise the most accomplished chefs, restaurateurs, authors and journalists in the United States. The most prestigious of the Foundation's awards is induction into the Cookbook Hall of Fame. This year's recipient was Dr Jessica B. Harris, leading culinary historian and Patron of the Oxford Cultural Collective.
According to The Heritage Radio Network, "Doctor Jessica B. Harris damn near knows it all when it comes to African and Caribbean cuisines and culinary history. She's a living legend". She is the author of twelve critically acclaimed cookbooks documenting the foods and foodways of the African Diaspora and her latest, High on the Hog: A Culinary Journey from Africa to America, was the International Association for Culinary Professionals 2012 prize winner for culinary history. Her most recent book is My Soul Looks Back: A Memoir.
At this year's media awards ceremony, which took place on 26th April at Chelsea Pier in New York City, host Tyra Banks honoured Jessica for her "exemplary work, sharing the story of the African American experience through the culinary traditions of her, and my, ancestors."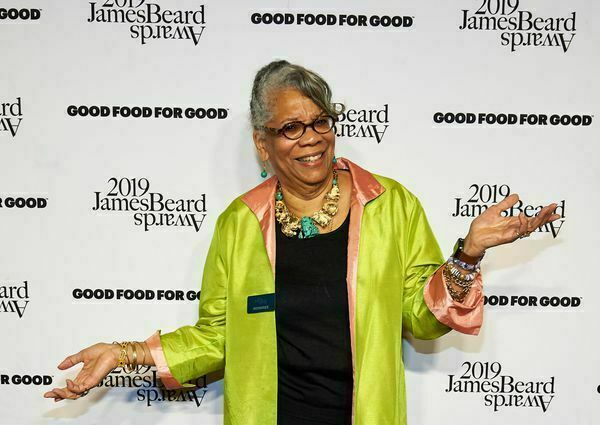 This is an extract from Jessica's acceptance speech:
"The real acknowledgement and gratitude must go to the ancestors on both sides of the Atlantic and to those who did not survive the unspeakable crossings… It must go to those whose sepia hands stirred pots, turned tournebrohes, herded cattle, planted crops from their homelands or other – New World and European – ones that duplicated their use. Acknowledgement goes to those who picked rice, and grew corn and wheat. They ate the slop that they were given – foraged and fished and hunted to add to that diet and gradually turned the proverbial (and often literal) sow's ear into something lush, tasty, and profound. They prepared family meals after those of others when the simple act of making dinner was a nightly miracle. The transformed their food into something so dense with history and rife with memory that we are only now, centuries later beginning to understand the depth of transformation that they wrought on the food of a nation (and – if we widen the lens and take a step back, they transformed the food of an entire hemisphere! – that was a hint about my next work!!)
This award must also go to those who have kept it going and passed it on from the mothers and fathers grandmothers and grandfathers, aunts/ uncles and neighbors who taught by example. (We are an oral people – not a lot of recipe cards in attics). To those cookbook authors past and present who have collected, documented and preserved. I am just a link in that chain.
It has been a long and amazing run. But, in the immortal words of Mehitabel the cat…" There's life in the old girl yet!" so I've got a few tricks still up my sleeves. I've retired and so for the first time in my entire writing career I can devote myself fully to the craft. I've got a head full of ideas and more than a few projects and I hope that by the time I close my eyes permanently, I will have added a significant number of new works to the stack of books and articles. I sincerely thank you for this."