OCC joins George Heriot's School to raise funds for Action Against Hunger
In partnership with George Heriot's School, Edinburgh, the Oxford Cultural Collective recently staged a dinner for 90 guests, raising £11,000 for Action Against Hunger.
On 19th February, Ken Hom OBE and Paul Bloomfield, Patrons of the Oxford Cultural Collective, joined S6 pupils from George Heriot's School, Edinburgh, to prepare a Chinese banquet for 90 guests.
George Heriot's has taken up the challenge of developing S6 pupils' cookery skills and food knowledge with a hands-on course that puts pleasure at the heart of learning. Once a week, under the guidance of Principal Lesley Franklin, a group of S6 pupils learn new recipes, cook together and enjoy each other's company over lunch. Emphasis is placed on cookery as an essential life skill – one that builds pupils' confidence and prepares them for the future.
Whilst the pupils were aware their learning experience would include preparation of a dinner in support of a chosen charity, it came as a shock to learn it would be for 90 paying guests and be overseen by Ken Hom, one of the world's most prominent chefs. They rose to the challenge, working as a cohesive team, undertaking two full days of preparation of a complex menu featuring nine different dishes. The team were joined by three chefs from Prestonfield House.
The cookery skills programme reflects the school's commitment to promoting positive mental health through a culture of kindness, respect and inclusion. It is this aspect of the initiative that particularly appealed to Ken Hom. "George Heriot's focus on food education is something to celebrate. It reminds us that cooking and eating together has a humanising effect. It requires us to listen to each other, enjoy each other's company and build strong, meaningful relationships. Sharing food and drink, and hosting others, is one of life's greatest pleasures."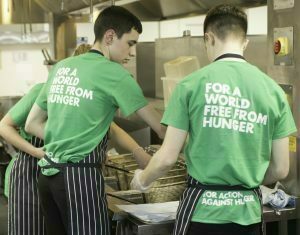 The evening began with Ken on stage 'in conversation' with Donald Sloan, Chair of the Oxford Cultural Collective. Jean-Michel Grand, CEO of Action Against Hunger, addressed the guests, sharing insights into the invaluable work of the charity, which works to relieve child hunger, worldwide.
Congratulations to the S6 pupils: Adam, Andrew, Caitlin, Douglas, Eilidh, Ethan, Gregor, Jasmin, Kyle, Milly and Rory.
With thanks to the event's sponsors: Prestonfield House, Apex Hotels, Pollination, Inspire Catering, Campbells Meat and Geroge Anderson and Son.