Planned launch of Daffodil – Oxford: Centre of Excellence for Hospitality
7th March 2020
The Oxford Cultural Collective has formed a working partnership with Daffodil International University in Dhaka, Bangladesh, to establish a ground-breaking centre of excellence for hospitality and culinary arts education.
The intention is to create an innovative educational institute which attracts and nurtures the next generation of hospitality professionals, tackles the hospitality skills deficit in Bangladesh and internationally and which celebrates and promotes the region's rich culinary culture.
Donald Sloan of the Oxford Cultural Collective recently travelled to Dhaka for the first in a series of planning meetings with university and government representatives.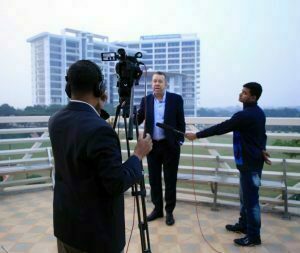 The Daffodil – Oxford: Centre for Excellence in Hospitality will make a unique and valuable contribution. It will:
be co-created by Daffodil International University, the Oxford Cultural Collective and senior representatives of the hospitality industry and government. This collaborative approach will ensure its relevance, connectedness and influence;
adopt innovative forms of experiential learning, to equip students with the skills and attributes that will help them fulfil their potential;
promote responsible business practice, including social enterprise, as a means of achieving positive community impact;
incorporate a range of educational programmes, from chef training to degree programmes in management and leadership;
help to professionalise hospitality in Bangladesh and elsewhere and enhance the status of hospitality employment;
promote Bengali culinary culture as a source of pride and point of distinction internationally; and
forge international partnership, to provide students with high quality internship and employment opportunities.
The partnership between Daffodil International University and the Oxford Cultural Collective was facilitated by Aziz Ur-Rahman, UK-based restaurateur and former Director General of the British Bangladesh Chamber of Commerce, who will play a key role in the new institute as its international advisor. On his hopes for the project, Aziz commented: "The time feels right for this ambitious educational initiative. The hospitality and tourism sectors in Bangladesh are growing rapidly, yet the country does not yet have an internationally recognised centre of excellence in hospitality education.  We want to raise aspirations, provide exciting opportunities for personal and professional development and ensure that our graduates find success, whether as chefs, entrepreneurs, or with leading hospitality brands, worldwide."
The Launch – November 2020
An international symposium is planned for November 2020 that will mark Daffodil International University's intention to make a significant contribution to hospitality management and culinary arts education. This high-profile event, which will bring together academics, hospitality industry leaders, policy-makers and press, will outline the university's strategic vision and objectives for its new school. Respected keynote speakers will address major challenges facing the rapidly expanding hospitality industry in Bangladesh and will reveal why they are supporting the Daffodil – Oxford: Centre for Excellence for Hospitality.
Participants in this symposium will become part of a new professional network committed to advancing hospitality education in Bangladesh, in partnership with the Daffodil International University, the Oxford Cultural Collective and representatives of leading hospitality companies.
Daffodil International University (DIU)
Formed in 1992, DIU has grown to become one of the highest ranked universities in Bangladesh.  Its mission is to pursue research, learning and teaching of international distinction, to benefit the nation.  The founder of DIU is Mr Sabur Khan, renowned tech entrepreneur who is also chair of the Daffodil Group, which operates 35 businesses in the fields of ICT, health, education and investment in Bangladesh, UK, USA, Malaysia and Dubai. The Chancellor of DIU is Mr Md. Abdul Hamid, President of the People's Republic of Bangladesh.