Romy Gill MBE prepares dinner at launch of 'Migrations: all our voices'
Romy Gill MBE prepared a sensational dinner on 17th June 2019 at the launch of Migrations: all our voices, the Oxford Cultural Collective's new series of events which will celebrate cultural difference as a positive and defining characteristic of British food culture.
The launch was held at Carousel, London's creative hub that is home to an ever-changing line-up of guest chef collaborations, workshops, exhibitions and events. 
Here, Romy shares her personal story and explains why she is backing the Oxford Cultural Collective's efforts to promote cultural understanding.
As Chef Proprietor of Romy's Kitchen in Thornbury, Romy Gill is known for marrying the flavours she grew up with in West Bengal with high quality British produce. In addition to her successful career as a chef Romy has written for numerous publications including the Guardian, Delicious, Olive and Saveur. She is a regular in British television, having appeared on Celebrity Masterchef, the Hairy Bikers and James Martin's Saturday morning, amongst other shows. On radio she has presented the BBC Radio 4 Food Programme and been a guest on Woman's Hour, the Asian Network and 5Live, and was a judge of the BBC Food and Farming Awards.
She was appointed an MBE in 2016. Her first book, Zaika, will be published in September 2019.
Why have you chosen to support Migrations: all our voices?
"I believe that food brings people together. By sharing food and sharing our food stories, we begin to understand and respect those from other backgrounds. This is because food defines who we are. It reflects our nationality and national pride, our region, our tribe and our personal history. It's inseparable from all these things.
"If I'm an advocate for anything, it's that people should move. Go as far as you can – across the ocean, or at least across the river. Open your mind, walk in someone else's shoes, and eat their food!"
The food that you prepared for the launch of Migrations: all our voices, reflects the tastes that were familiar to you when you were growing up in India and the food you have discovered since moving to the UK.  Tell us a bit more about these dual influences? 
"I grew in a very small town in West Bengal where I experienced people of different cultures coming together, and I remember many rituals and celebrations involving food. Whilst all from the same region, people cooked in their own distinct ways. I would eat at home and then go to my neighbour's house and say mum hadn't fed me and so would eat there too. Street food played such an important part in my life, something that is reflected in my cooking
"Indian food is all about sharing so at this dinner I am making Romy's special samosas chaat and sweet and sour paneer, which stems from the Indo-Chinese – the Hakka community in Bengal that have their own distinct dishes which you will not find in China. Our main course will be Kerala-style goat curry with jeera rice and salad. As a family we would only have goat once a month as it was a expensive.  It was definitely a special luxury that we looked forward to."
What role did food play in your family when you were growing up?
"My Mum's life revolved around preparing food for her three children. She would make fresh parathas for breakfast and delicious packed lunches for us to take to school. When we came home each day we would have special snacks and then enjoy a comforting evening meal together. I saw how mum loved food and respected the ingredients she had."
What was your inspiration for becoming a chef?
"When I going to do A-level exams my mum was diagnosed with terminal cancer and she was told she would only have a few years to live. In fact she lived for 30 years longer than expected. It was during this period of turmoil that I decided I wanted to work in something involving people – hence hospitality.  However, my father said 'no'.
"When I moved to UK I returned to my love of hospitality and was influenced and motivated by celebrity chefs including characters such as Keith Floyd, the Two Fat Ladies, Delia Smith and later Nigella (the first cook book I bought was 'How to eat' )"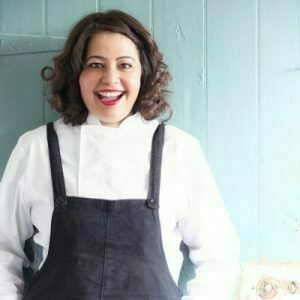 Do you see a change in attitude towards Indian cuisine in the UK in recent years?
"Absolutely without doubt. We have seen wonderful changes, such as a focus on regional food and women opening restaurants. We need to give credit to the early Indian restaurateurs in the UK as the generic food they offered became part of British culture, but it is exciting that things are changing in positive ways. Innovative chains like Dishoom are making good quality food available to a much wider audience."
Do we do enough to celebrate cultural diversity as a defining characteristic of the UK restaurant scene and UK tastes?
"This is a fantastic series that the Oxford Cultural Collective has started. We need to come together and celebrate all cultures in the UK and elsewhere, through our shared love of food. We need more brown and black food writers who can share insights into their food heritage. As a food community, we also need to support those in minority groups who face particular challenges, including mental health issues, which are often ignored."
In addition to your obvious skill and distinctive approach, what has helped your career since moving to the UK (i.e. support network, mentors, acknowledgement from others, your own determination?).
"Arriving in the UK as a 22 year-old I was super excited, but I hadn't really done any planning.  I started missing my family and friends and the food that I grew up eating, which led to me having depression and anxiety. This is what encouraged me to open a restaurant – to share the food that I grew up eating. Despite many serious challenges I managed to do this when I was 40. After opening, none of the food critics visited, except for one from the local newspaper. I made it clear to my team that I didn't want to be the women who opened a restaurant and closed it within a year. An opportunity to cook at Carousel in London changed my life in many ways. Fay Mashler, Grace Dent, Richard Vines, Allan Jenkins and Shelia Dillon, among many others, came to eat and loved my food. Grace then came to come to my restaurant and wrote about me and my food. An opportunity to be a judge on the BBC Food and Farming Awards followed, and even guest appearances on the Food Programme. I had to work hard at building relationships and taking every opportunity that came.
"I have one moto. Don't be afraid to ask people for help. They can only say yes or no. Certain people including Sheila Dillon, Allan Jenkins, Clare McGin, Clare Salisbury, Dimitri Houtart and the team at Carousel have believed in me and helped me."
What challenges have you experienced?
"Not being in London or even central Bristol has been big challenge. It is so much more difficult to get noticed if you are in a small town.  Sometimes I think I am chosen for opportunities as a token Indian woman – but to be honest I will take every opportunity that comes and make the most of it."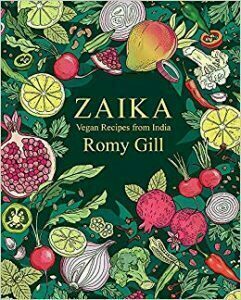 You are making a strong and visible impact on the UK food scene, not only through the quality of your food, but also through your media appearances and support for others.  What would you like to achieve in the future?
"My book Zaika is coming out in 5th of September . It is a labour and treasure of love!  It is a vegan book, which I have not done to be trendy, but because I wanted to write the recipes my mum would cook for us and tell people my story about our plant-based Indian diet.
"I want to travel, learn more about India and other countries.  There is so much more to learn and to eat. And I really hope I am able to do a television series to show real India."