Wine, food and the natural rhythms of each vintage
11th April 2021
This article by Lynne Levin, Patron of the Oxford Cultural Collective, was originally published in the Winter 2020/21 edition of A Passion for Wine.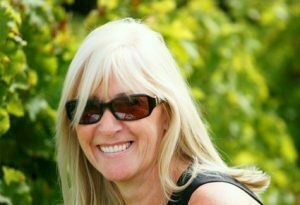 Lynne, originally from Victoria, Australia, has had a distinguished career in wine and hospitality. She is co-owner (together with husband David Levin MBE) and producer of Domaine Levin Wines in the Loire Valley, France, managing the winery and 19 organic vineyards that produce the family's Levin Wines brand. Lynne has driven many innovations to enhance the certified organic practice and biodynamic principles that express the family's sustainable, handcrafted, authentic winemaking philosophy. Lynne and David have also created Great Wine Estates, a collection of expressive, site-specific wines from idiosyncratic, independent wine producers with an eye on the future and reverence for the past.
My passion for wine started with a passion for the land, and a fascination with the complex layers of expression that each harvest and vintage would bring. Growing up on a farm, living and working with nature, never against it, was for me a way of life. We had access to many generations of harvest diaries, meticulously recording every detail of annual temperature, rainfall, crop rotation, disease management, refinements in planting and harvesting. In this way, we came innately to understand the natural rhythms and variations that each harvest or vintage would bring.
Connection of food we produced to wine from grapes we had grown was an early dominant influence: spring lamb reared in our fields of stubble, roasted over an open fire of stumps and old vines, enjoyed with a wine produced from grapes grown in our back block, was a joy of the bounty of nature and of our ingenuity and respect for what nature provides. Set within the context of our land and cultural influences passed down through generations, this powerfully linked our history and our culture to the land.
At Domaine Levin, located in the Loire Valley, our philosophy is to respect each vintage and to celebrate whatever it brings. We hand-pick each individual vineyard block, allow the free run juice to spontaneously ferment in individual stainless steel tanks or oak barrels that express the natural character of that vintage. The fertility of the vines, the ecosystem and natural yeast will be aligned to the vintage and direct the ferment vigour. The individual tanks can then be blended to create an organic wine that is more nuanced, complex and expressive in both youth and maturity. The focus on producing wines from separate blocks seems quite new, but in reality, is thousands of years old. Each vineyard block is individual, with different rootstocks and clones of each grape varietal which responds and expresses differently to every vintage condition.
Organic food, like organic wine, exhibits this same natural rhythm. Here in the Loire Valley, we see a harmony in the warmer, wetter years that produce amazing vineyard mushrooms, truffles, rillettes that are richer, goats cheese that is creamier, asparagus fatter, eels from the Loire sweeter, and the game more abundant. Wines produced from such vintages show riper fruit characters in a more exotic spectrum. Our Levin Sauvignon Blanc expresses white stonefruit, lotus blossom and mango, the spice notes are more prominent, and the soft herbaceous characters balance with hedgerow and artichoke and green tea. Texture and acidity tends to be more integrated in these years. Levin Gamay will show its luscious side, juicy, concentrated plum, red cherry and blackberry flavours, savoury with forest wood, spice, lavender and violets, with its classic acid spine.
Long cool growing seasons, yield goats cheese that is a little chalkier, Loire River pike more popular than eel, ducks more flavoursome, the rillettes leaner but no less delicious, artichokes, cucumbers and celeriac come into their own, mushrooms a little harder to find (unless you have your own troglodyte cave!). Levin Sauvignon Blanc in such years will exhibit leaner citrus fruit characters, grapefruit and lemon peel, the palate will be long, lean and crisp, flinty minerality more apparent, the texture more complex with a 'tension' in the wines and a saline lift on the back palate. Levin Gamay in these vintages can be variable, where a decision will be made whether oak barrel or stainless steel ferment is more appropriate. Fruit flavours are in the spectrum of black cherry and violets, more savoury and earthy, with star anise spice and smoky notes, long on the palate with acidity and flinty minerality.