JUMEIRAH HOTELS AND RESORTS – FEATURED EXHIBITOR – FUTURE CAREERS FAIR 2021
Future Careers Fair 2021 is thrilled to be welcoming Jumeirah Hotels and Resorts
As we emerge from lockdown, Future Careers Fair 2021 (28th May 2021) will provide reassurance that hospitality, travel and tourism remain vibrant sectors in which graduates can build fulfilling management and leadership careers.  The event will bring together up to 500 graduates from across Europe and the Middle East with organisations seeking to connect with the next generation of hospitality, culinary arts and tourism professionals. 
To register for Future Careers Fair 2021, which is taking place on 28th May 2021, follow this link.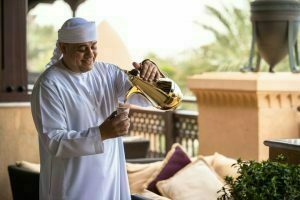 Jumeirah Hotels and Resorts has been making a distinguished impact on the global hospitality market for more than two decades. As exemplified by its flagship hotel, the iconic Burj Al Arab, Jumeirah has transformed the way that luxury is defined.
Jumeirah operates a world-class portfolio of 23 hotels across the Middle East, Europe and Asia and employs 8000 staff, representing 106 countries. Its properties are known for marrying stunning architecture and interior design with beautiful locations and landscapes.  Jumeirah places particular emphasis on the quality of dining experiences – recognised as one its strongest points of differentiation.
Employment opportunities
Jumeirah Hotels and Resorts in Dubai are seeking to recruit individuals who have a genuine passion for delivering bespoke hospitality and memorable experiences to guests. This is the hallmark of the company's approach, on which it has built its international reputation.
Despite recent challenges faced by the global hospitality industry, the market in Dubai remains highly optimistic.  With EXPO 2021 approaching, Jumeirah Hotels and Resorts are going from strength to strength, and the search is on to recruit great talent.  For new graduates looking for international experience, this presents the perfect opportunity. They will be joining a company that is fully committed to developing and empowering employees and providing opportunities for long-term career development.
Jumeirah Hotels and Resorts in Dubai have many positions available at operational and supervisory levels, across multiple departments.  The company offers competitive salaries, plus a range of benefits including airline tickets to Dubai, shared accommodation or a housing allowance, medical insurance and substantial dining and hotel discounts in all Jumeirah properties.
Jumeirah Hotels and Resorts in Dubai are happy to receive curricula vitae from applicants in advance of Future Careers Fair 2021. If you are interested in exploring employment opportunities, forward your CV to occ@oxfordculturalcollective.com.  Enter 'Jumeirah application' as the subject.
EXPO 2021
It will be fascinating to live and work in Dubai whilst it hosts EXPO, an international showcase of innovation that is shaping the modern world. From October 2021 to March 2022 the city will be home to 190 architecturally striking country pavilions, each offering immersive cultural experiences; a rolling programme of live events focused on the arts, the future of food, new technology, entrepreneurship and education; as well as contributions from organisations that are helping us face our most pressing global challenges.