Ritrovo – featured exhibitor – Future Careers Fair 2021
Future Careers Fair 2021 is thrilled to be welcoming Ritrovo.
As we emerge from lockdown, Future Careers Fair 2021 (28th May 2021) will provide reassurance that hospitality, travel and tourism remain vibrant sectors in which graduates can build fulfilling management and leadership careers.  The event will bring together up to 500 graduates from across Europe with organisations seeking to connect with the next generation of hospitality, culinary arts and tourism professionals. 
To register for Future Careers Fair 2021, taking place on 28th May 2021, follow this link.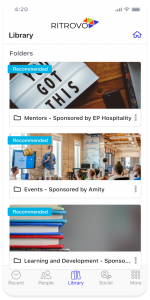 In a world where trust in institutions has declined and dominant leadership styles are being called into question, we need to ensure young people do not lose their aspirations to become effective leaders.
Ritrovo is a new personal leadership development resource platform which contains curated personal stories from a range of respected leaders who share a commitment to supporting the next generation. They talk candidly about the experiences that shaped their own personal leadership journeys, the leaders who have inspired them and the advice they would give to themselves if starting out again.
Ritrovo also provides a bank of articles and videos (updated on a regular basis) on a wide range of leadership topics.
Those wishing to actively contribute to discussions on aspects of leadership, can opt for Ritrovo Engage, where they can meet with like-minded people from around the world in knowledge sharing forums.
Those seeking tangible support can explore Ritrivo's portfolio of leaders who have agreed to become mentors.  They can select and engage with mentors who will help them as they progress towards leadership.